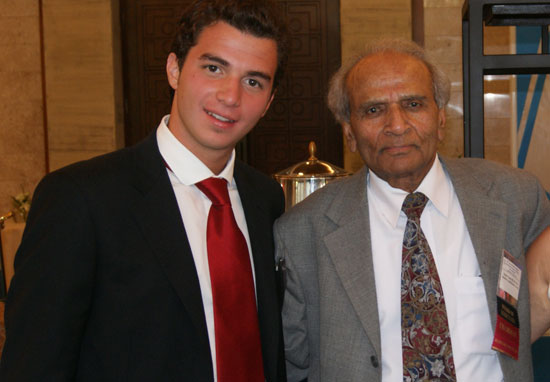 Motaz AlYafi, second year medical student, Alfaisal College of Medicine was invited to attend and present a case report in a conference in Bali, Indonesia.
"Abdominal Aortic Aneurysm with Intracardiac Thrombus: A Rare Finding in a Cadaver at Alfaisal University" title of the case report was accepted for oral presentation at the 53rd Annual World Congress, which was held at the Grand Hyatt Nusa Dua Bali Hotel, Bali, Indonesia, in September.
The case report was prepared by Motaz his colleague Abdulhadi AlAmodi in addition to Dr. Paul Ganguly and Dr. Jurlink Bernhard, Professors of Anatomy at the College of Medicine. The case report looks at a cadaver in Alfaisal University that was found to have a lot of abnormal symptoms, the main ones were Abdominal Aortic Aneurysm, Intracardiac thrombus, a huge venous shunt was present between his right femoral vein and right subclavian vein.
Motaz who presented the report in Bali, met with leading academics: John B. Chang, M.D., FICA, FACS, Chairman, Board of Directors Vice Chairman John A. Elefteraides, MD Kailash Prasad, MD, PhD, Professor Emeritus and Adjunct Professor of Medicine
Alfaisal University is committed to engaging its students as early as their first year of undergraduate study in research. It provides opportunities nationally and internationally for its finest students to get exposure to international conferences and events gaining valuable experience in their fields.