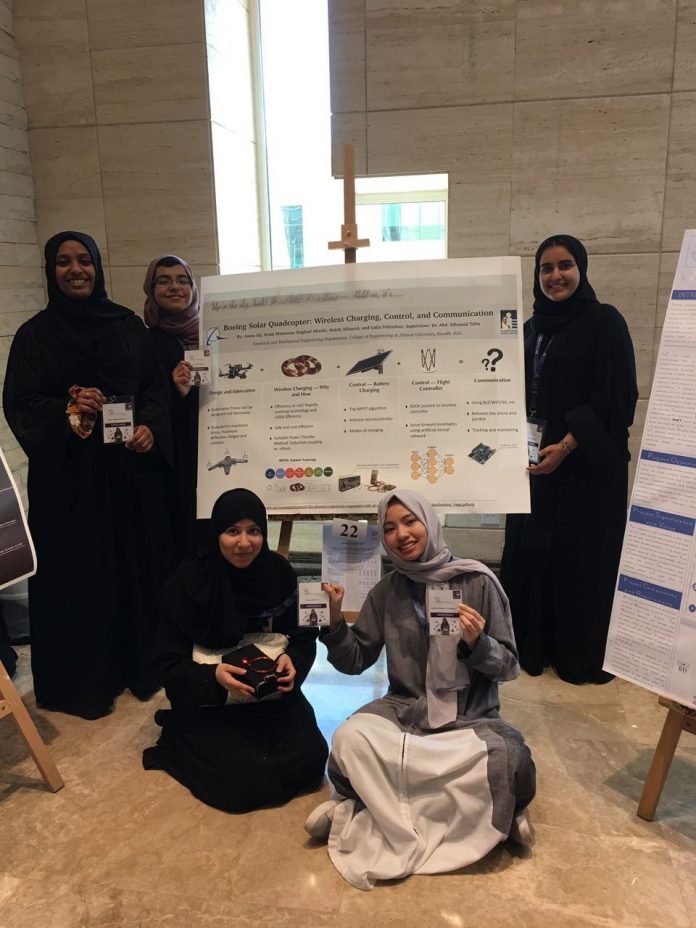 Three Alfaisal Engineering senior teams participated in the poster session at Effat University, which was hosting the 15th International Conference on Learning and Technology – a two-day event scheduled February 25th-26th, 2018 including guest speakers from around the world discussing a myriad of topics from the social implications of IoT to technical realizations and innovative applications. The theme for the conference this year was: Internet of Things and Smart Systems.
Members of the teams included Aram Monawar (EE, Senior), Raghad AlTurki (EE, Senior), Asma Asim Ali (EE, Senior), Halah AlSayed (ME, Senior), and Laila Felemban (IE, Senior). The students presented their efforts in three projects, namely Boeing Solar Quadcopter, Boeing Solar Car-Driver Interface, and Smart Airport Solution for King Khalid International Airport, respectively supervised by the Dr. Abd-Elhamid M. Taha (EE), Dr. Ahmed Oteafy (EE) and Dr. Samer Mansour (SE), and Prof. Nidal Nasser (SE).
The students shared their experience:
"It was fun and interesting to not only participate in the competition and listen to the great speeches about a wide-range of topics in IoT, but also to see Effat University itself, which has not only well-established educational and student-centered facilities, but a beautiful campus.
Moreover, this trip allowed us to visit another of the large cities of KSA and feel its different culture. We were able to get exposed to another poster competition other than Alfaisal's annual one.
We had the opportunity to meet with other university students, discuss, and exchange ideas through hearing and seeing their presentations and posters and by sharing our own work. The event also offered everyone the chance to find out what other types of research are being carried out at Effat University and the latest knowhow, expertise, and business developments in the fields of Virtual Reality and multi-dimensional environments in KSA.
But undoubtedly one of the greatest benefits of this experience was the knowledge we learned about each other as a team. The Quadcopter team is made up of Electrical, Mechanical, and Industrial majors and the Solar Car DI and Smart Airport Solution of Electrical and Software. majors The multidisciplinary aspect allowed us all to understand many aspects not only of our project, but of other projects and speeches. We gained valuable feedback from the competition and other judges viewpoints on layout, design, content, and style.
All in all the trip was educational, inspirational, and definitely team and skill-building."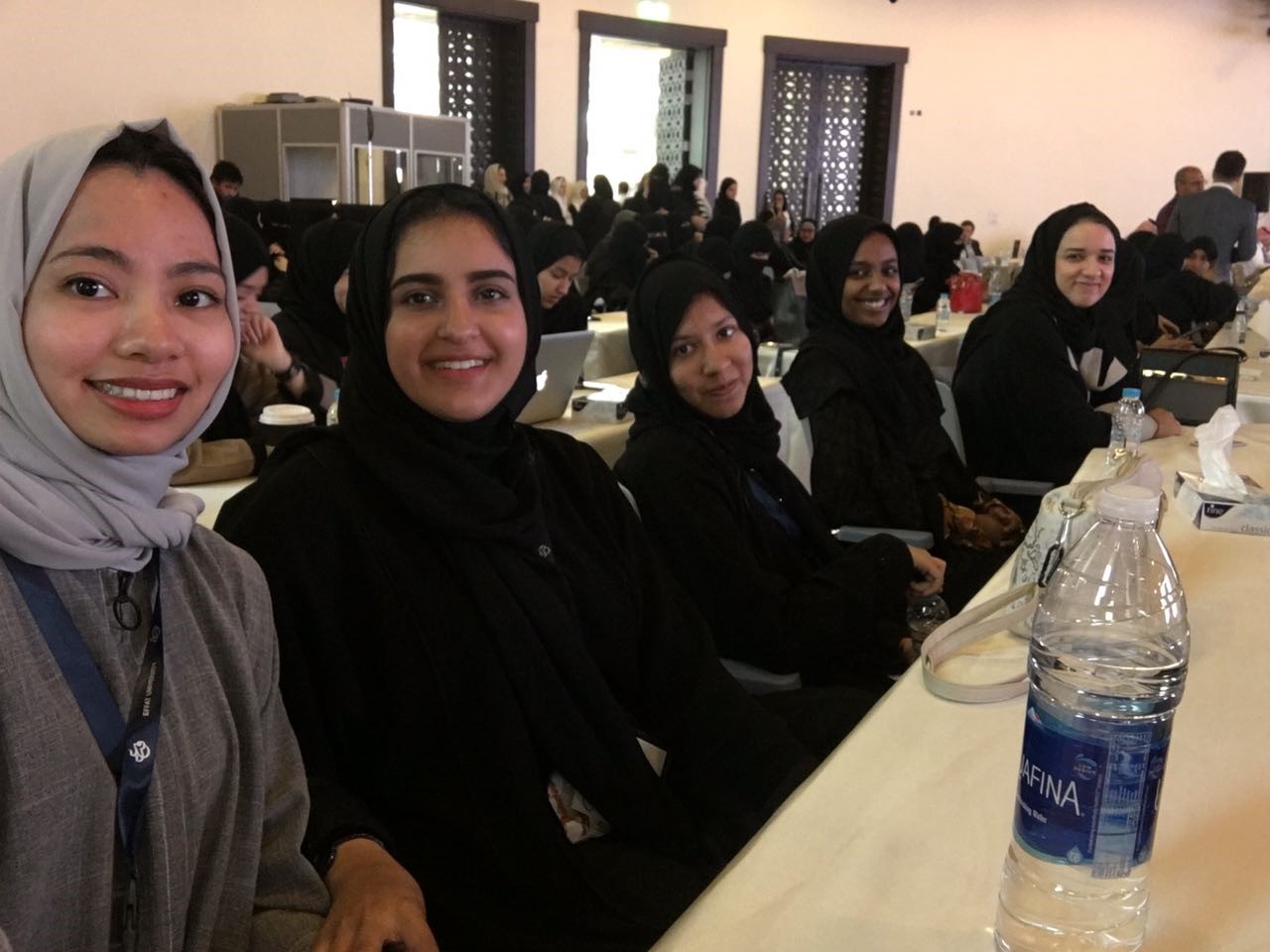 IoT Conference at Effat University. Left-Right: Laila Felemban, Raghad Alturki, Asma Ali, Aram Monawar, Reema AlMashari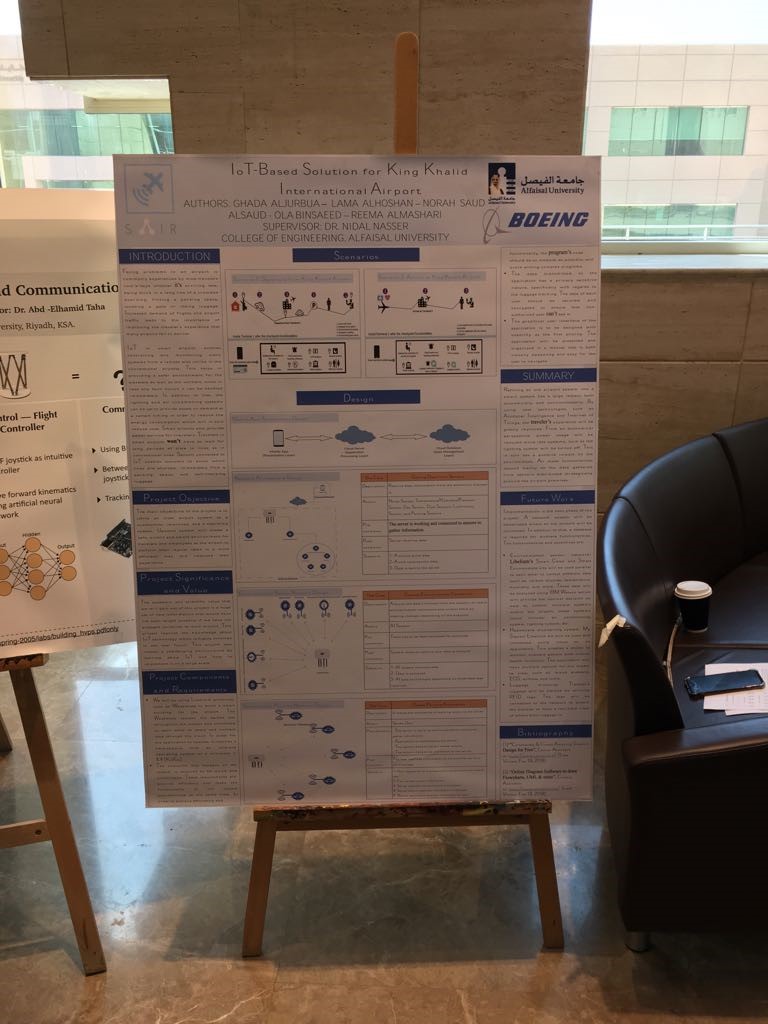 Smart Airport Solution for King Khalid International Airport: Reema AlMashari, Ghada AlJurbua, Lama Alhoshan, Norah Alsaud, Ola Bin Saeed