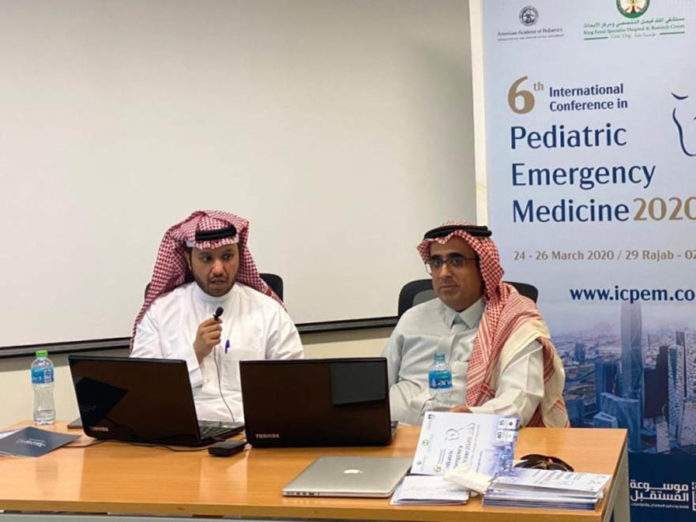 24th – 26th of March, 2020: Alfaisal University and King Faisal Specialist Hospital and Research Centre, in collaboration with American Academy of Pediatrics (AAP) have successfully concluded the "6th International Conference in Pediatric Emergency Medicine 2020"
24th – 26th of March, 2020: Alfaisal University and King Faisal Specialist Hospital and Research Centre, in collaboration with American Academy of Pediatrics (AAP) have successfully concluded the "6th International Conference in Pediatric Emergency Medicine 2020" 
Abiding by health precautions in the fight against the spread of Corona Virus (COVID 19), the conference was conducted online. This event has been hosted by the Department of Emergency medicine, King Faisal Specialist Hospital and Research Centre in collaboration with American Academy of Pediatrics (AAP) and involvement of well renowned international speakers.
The 6th edition of the conference aimed to facilitate greater communication and exchange of most recent and accepted evidence-based practices in this field. The topics selected were based on daily and challenging issues that health care providers in the acute care setting are confronted with. This conference and Ultrasound workshop are accredited by the Saudi Commission for Health Specialties (SCHS) for 40 hours and 35 hours by the American Academy of Continuing Medical Education (AACME). The Attendees who benefited from this conference were Pediatric Emergency Physicians, Emergency Physicians, Pediatric and Family Physicians, Fellows and Residents in training programs, Nurses and other allied health care providers.
The conference included 20 workshop and discussion panels and +30 lectures in the latest advances in the pediatric emergency medicine presented by national and international experts in the field.
Dr. Mohammad Alfaifi, Consultant & Head, Pediatric Emergency Medicine at King Faisal Specialist Hospital and the Chairman of the Organizing Committee have emphasized the importance of the conference and the academic and clinical value it presented by engaging important names in the field to share their expertise, the speakers were from renowned universities in the world such as Yale and UCAA.
The conference that was conducted through the internet on the duration of the 3 days attracted 1000 participants and followers from the Kingdom, GCC countries, the United States and Europe.