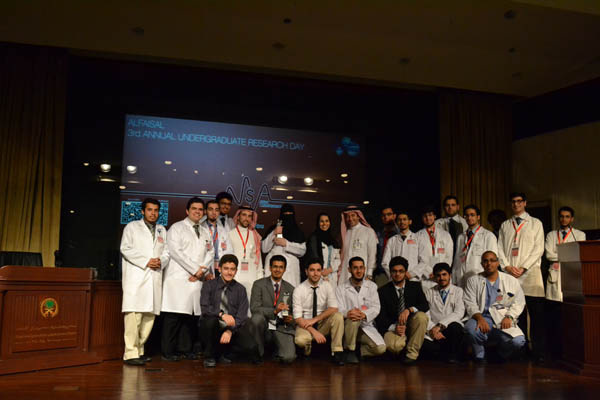 College of Medicine, Alfaisal University held its 3rd Annual Undergraduate Research Day at Prince Salman auditorium (King Faisal Specialist Hospital and Research Center) on the 10th of April 2012. The symposium was a joint endeavour by Alfaisal University's very own Medical Student Association (MSA), the Office of Student Research at Alfaisal University and King Faisal Specialist Hospital & Research Center. Sub-titled "To International Excellence", the day-long event sought to bring to light the many research-based achievements and endeavours of Alfaisal's medical students, hoping to inspire yet more minds and continue on the institution's long-standing path of expanding and sharing knowledge in the future.
The opening ceremony began with recitation of the Quran and a welcome speech by the organizing committee Head, AbdulHadi Alamoudi. This was followed by the MSA President Abdullah AlShammari's updates on the Medical Student Association's past and current achievements and efforts, as well as enlightening addresses by College of Medicine Dean Dr. Khaled Al-Kattan and His Excellency, Dr. Qasem AlQasabi (CEO – KFSH). Dr. Khawla AlKuraya, a renowned figure in the research field, added an aura of inspiration and motivation to the morning with her thought-provoking speech on undergraduate research. Stressing upon the importance of teamwork and the colossal significance research holds in today's rapidly advancing society, Dr. Khawla said: "Without lab-time and research, clinicians will never be able to appreciate the hard work involved in writing a single research paper. Also, remember that teamwork is key to success in this field."
The opening ceremony set stage for a very promising day seeking to illuminate the many research-based accomplishments of Alfaisal's medical students. A total of eighteen undergraduate College of Medicine students presented their past and on-going research projects before an enthusiastic audience comprising of Alfaisal's students, faculty and staff, as well as distinguished medical practitioners hailing from variable areas of expertise.
A day's worth of awe-evoking student presentations, open question and answer sessions and pleasant exchange later, the symposium culminated with a greatly anticipated awards ceremony which demarcated the first, second and third place winners as Azhar Farooqui ('Striatin is a novel regulator of calcium homeostasis in cardiomyocytes'), Ahmad Abu-Zaid ('Renal Inflammation and Elevated Blood Pressure in a mouse model of Reduced Beta Epithelial Sodium Channels ') and Cynthia Mosher ('Improving Breastfeeding in Saudi Arabia: The Baby Friendly Hospital Initiative') respectively. In addition, vote of thanks was also extended to the symposium organizers (the MSA), the attendees and the judging panel for their support, co-operation and efforts geared towards making the day one to be remembered for a long time to come.
With world-class dedicated faculty, students and organizations such as the Medical Student Association striving towards "international excellence", there is no doubt that Alfaisal University will continue to foster and grow upon its commitment to quality education.