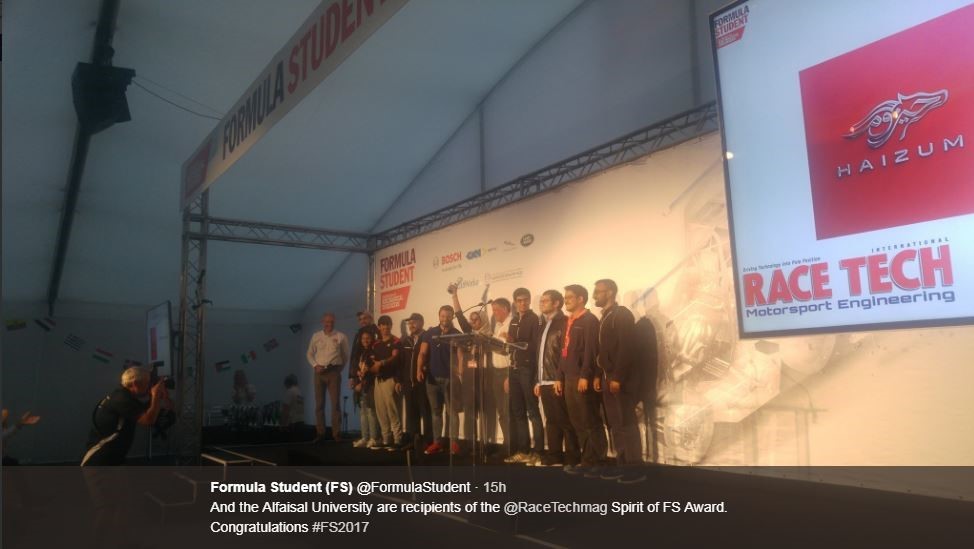 Students from the Mechanical Engineering Department at Alfaisal University became the first Saudi team to participate in the Formula Student competition.  The project was supervised by Dr. Abdel Naser Daoud and sponsored by SABIC and the Office of Research at Alfaisal University.
Alfaisal University's participating team at the 2017 Formula Student competition in Silverstone have received the RaceTechmag Spirit of FS Award. The Formula judges and chief designers were impressed with the level of proficiency, dedication, and spirit that Alfaisal Haizum team had.
The team of 55 students have spent months of research, hard work and put their Aero Dynamic, Mechanical Design and Suspension knowledge to work in designing and building a car to compete in this motor sport competition.
Representatives from Alfaisal Haizum stated: "Our goal is to represent the Kingdom of Saudi Arabia in the world of motor sport and show the full potential of the knowledge applied by young engineers. We aim to apply our knowledge and skills to build a world-class racing car that is efficient in energy but also great in performance".
Dr. Muhammad Anan, Acting Dean of Engineering said: "The Formula Student competition is a unique opportunity for our engineering students to gain hands-on experience and apply their engineering knowledge through the construction of an ultra-effective vehicle. The College of Engineering is proud of Alfaisal Haizum's team, the faculty advisor, and their achievement this year. We are very thankful to our leadership and their continuous support."
Alfaisal University intends to provide the best opportunities for its students by encouraging them to participate in global environmental projects and educational programs and services that benefit the Kingdom of Saudi Arabia, the region and the world.
Formula Student is a competition that attracts students from around the globe and provides an ideal opportunity for them to test, demonstrate and improve capabilities to deliver a complex and integrated product in the demanding environment of the motorsport industry.
On Twitter:
https://twitter.com/AlfaisalHaizum
https://twitter.com/RaceTechmag
Formula Student 2017 Sunday Awards and Closing Ceremony
https://www.youtube.com/watch?v=R_2hcoK1clE