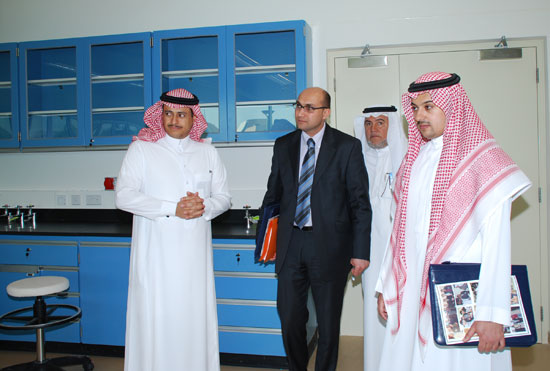 Alfaisal University welcomed the visits of HRH Prince Faisal bin Saud bin Abdullah Alfaisal Al Saud, Chairman & Deputy CEO of Saudi Investment Group & Marketing and Dr. Amir Dhia, Information Age & Diplomacy Specialist and Professor at University of Paris, INSEEC, on Monday 16th March 2009.
Met by the Alfaisal team; Dr. Ala Al Bakri, Dr. Maher Alodan, Dr. Khalid Al Kattan and Ms. Jeehan Al Heddawi, the visitors were given a brief presentation about the University highlighting its mission, aspirations and achievements to date, followed by a campus tour.
HRH Prince Faisal bin Saud bin Abdullah Alfaisal Al Saud was very pleased and impressed with the University and commented "I was very impressed with what I saw. I thank who thought about this world class academic institution, and who helped in building it and made it happen. God mercy Alfaisal's soul".
Dr. Dhia of Paris University INSEEC applauded the university's educational mission commenting "A commitment to excellence" has well been set in place".
INSEEC Paris is one of France leading private educational organizations, offering undergraduate and graduate studies in Business management and communication in schools located in Paris, Bordeaux, and Lyon.
The French Schools have been founded to satisfy a demand of the French companies which require future managers with a high standard of business education linked with internships during the study period.
During their visit HRH Prince Faisal and Dr. Dhia had the opportunity to meet and engage with Alfaisal College of Business students and left looking forward to forging collaborations between Alfaisal University and The University of Paris INSEEC and wishing the university "all the best for future success and distinguished achievements".