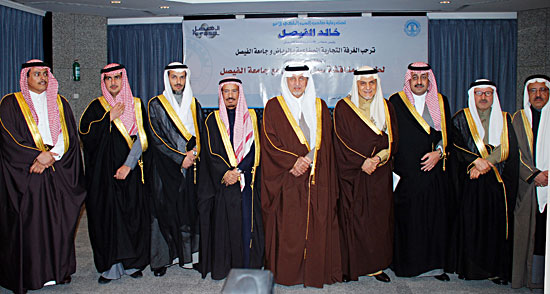 Alfaisal University sets precedence as it pioneers the way in forging relationships with leading businessmen from Riyadh. The Riyadh Chamber of Commerce and Industry was host for Alfaisal University and prominent business leaders with HRH Prince Khaled Alfaisal, HRH Prince Turki Alfaisal and HRH Prince Abdulaziz Bin Ahmad Bin Abdulaziz and HH Prince Bandar Bin Saud Bin Khaled among the many important dignitaries in attendance. Held on Sunday, December 21, 2008 at 7.30 p.m. the event's purpose was an effort to build associations and strong links with industry and commerce that would result in achieving the common goal of the kingdoms strategic objective for economic, social and educational advancement.
The University's objectives, programs and aspirations were all highlighted at the event in an informative presentation made by Dr. Maher Alodan Acting Vice President for Advancement and Vice President for Research and Graduate Studies, to over 20 leading businessmen and dignitaries.
HRH Prince Khaled Alfaisal, Chairman of Board of Trustees and Chairman of The Campaign for Alfaisal University stated "this event marked the beginning of what will be a series of ongoing meetings between the Chamber of Commerce and Industry and Alfaisal University. Every one participating with an idea, with a doing or with financial support will be participating in the advancement of education in the Kingdom"
This event is yet another example of Alfaisal University's commitment in upholding its core values and consciously building national and international partnerships for growth and prosperity. Alfaisal has a commitment to develop affiliations and collaborations with leading national and global corporations, institutions and organizations.