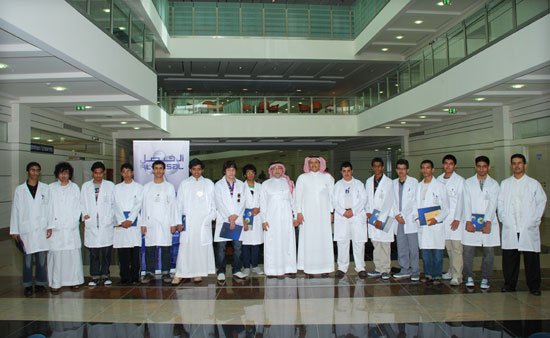 Alfaisal University received 16 trainees of ibn sina program on 13th of July 2009, .
Ibn Sina program is a medical science program organized and sponsored by King AbdulAziz and his companion foundation for giftedness & creativity in collaboration with KFSH & RC. 16 gifted students from all over the kingdom joined the program this year to be trained by highly qualified academics in the field of medicine and research.
The visitors were welcomed by The VP for research & graduate studies, Acting Dean of College of Engineering, Dr. Maher Alodan who led the visitors in a campus tour that ended by an informative presentation about Alfaisal University
In its fourth year, Dr. Fallah Almohana, head of Ibn Sina program requested a visit to Alfaisal to meet the program objectives where the trainee visit learn and gain experience from high standard educational and research institutions in the kingdom
This visit also comes as a continuation of an effective collaboration between Alfaisal University and KFSH & RC.