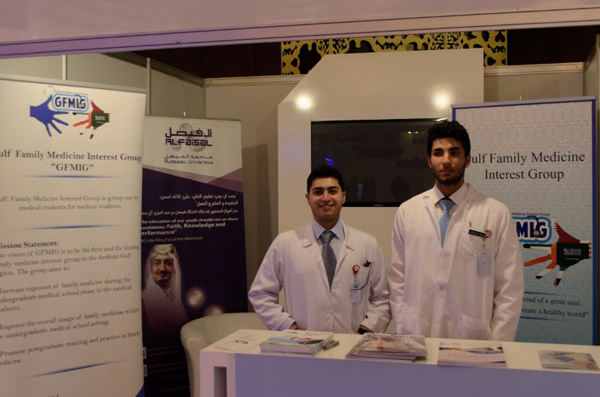 Post-Exhibition Report
The International Conference on Countering Diabesity held an exhibition on the 21st and 22nd of October in Intercontinental Hotel, Riyadh. The two-day exhibition aimed to review the latest scientific findings in the treatment of obesity and diabetes, and to highlight the impact of the current shortage of qualified professionals with knowledge on the disease. It also aimed to underline the role of educational bodies and various organizations in fighting diabetes and obesity in the Gulf Cooperation Council.
The main exhibitors included universities, non-profit organizations, and pharmaceutical as well as medical equipment companies.
Students from Alfaisal University represented the university and GFMIG at the exhibition. The booths were sponsored and funded by Alfaisal University.
Alfaisal University was one of the very few universities that participated in the two-day exhibition. Qualified students from the College of Medicine represented the university in a professional manner. Majority of the visitors were impressed with the courses offered by Alfaisal University and were keen in joining one of them. Visitors, mainly medical students showed special interest in the postgraduate programs offered by the university and were keen in assessing the possibility of their acceptance in the university. Also, some of them were eager to join the upcoming postgraduate programs in the future.
GFMIG – 'Gulf Family Medicine Interest Group' also participated in the exhibition. It is the first student run family medicine interest group in the Middle East. It is run by the students of Alfaisal University and led by Dr. Bara AlGhalyini, Consultant Family Physician and Assistant Professor of Family Medicine at Alfaisal University. During the exhibition, the group aimed to empower Family Medicine as a specialty by raising public awareness about the importance of Family Physicians and their role in healthcare. The students also explained to the visitors the different workshops and healthcare events organized by GFMIG regularly. Visitors, particularly doctors and students showed interest in the workshops and mentorship programs offered by GFMIG.
During the two-day exhibition, the booth attracted hundreds of visitors. The booth had visitors from different medical disciplines – doctors and nurses from different departments such as Cardiology, Radiology, Family Medicine as well as medical students, residents and health practitioners.
Some of the advertising and promotional items that were used during the exhibition include Alfaisal University brochures, magazines, and courses booklets. Gift items such as pens, notepads were also presented to the visitors. GFMIG pamphlets and brochures were distributed to provide more information about the group's activities. Roll-up banners for both Alfaisal University and GFMIG were set up in front of the booth to attract visitors. Also, keen visitors were asked to fill out interest forms.
The visitors were visibly impressed by the programs offered by Alfaisal University and GFMIG. The group received more than a hundred responses for the interest forms during the exhibition. The interest people showed was amazing. This is evident by the positive feedback the group received during the exhibition,
"How can I join the university courses..?"
"I wish new courses open at your university by the time I graduate, so I can join"
"I like the activities the university has for medical students…."
"I am interested in collaborating with GFMIG…."
"Can we volunteer in any GFMIG activities?"
"You actually have good programs for postgraduate students"