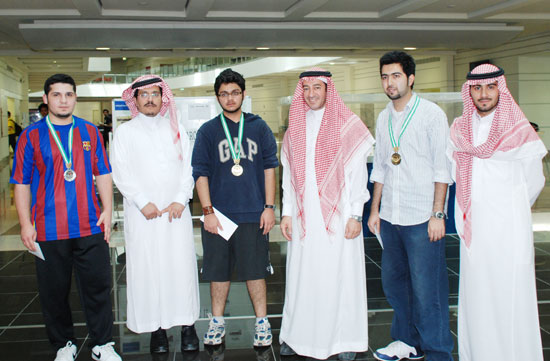 As a change to the demanding academic atmosphere of the university, the Table Tennis Club organized the first Intra-University Table Tennis Tournament. Students, staff and faculty from all colleges and UPP were invited to take part in the tournament. The tournament games were played over a period of two weeks, with the knock-out round lasting for 3 days followed by the semi-finals and the final which was held on the 8th of May 2010.
Students along with faculty and staff showed great enthusiasm for the tournament. A total of 45 participants took the challenge, out of which 35 were students and 10 were faculty and staff members including senior academic leaders; Dr. Maher Alodan, Dr. Mattheus (Theo) F. A. Goosen and many more.. After a series of tough knock-out round matches, the University Table Tennis Championships ended with 4 semi-finalists namely Mouaz Malick (UPP), Omar Faisal (UPP), Dr. Ahmed Yaqinuddin (Faculty -COM) and Lucman Anwer (2nd year-COM).
Following the rigorous semi-final round, the final was held between Lucman Anwer and Omar Faisal in an eye-catching event attended by many. The first Alfaisal Table Tennis Champion title went to Lucman Anwer, student from College of Medicine. The winners were awarded with medals and cash prizes by Dr. Khaled Kattan, Dean of College of Medicine and Mr. Mohammaed Alawoyed, Dean of Admission and Registration Student Affairs.