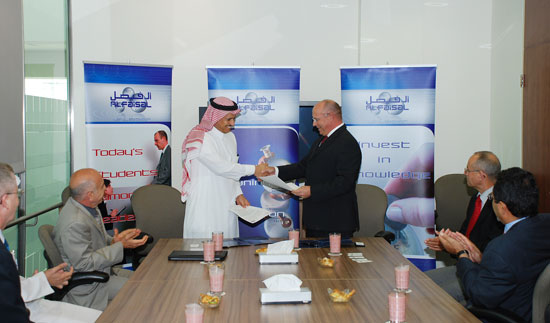 Dr. Maher Alodan, Vice President for Research & Graduate Studies, Dean of Engineering signed a Memorandum of Understanding with Mr. Ralf Schiffer, Chief Executive Officer, Fraport, Saudi Arabia for Airport Management and Development Services Company Ltd.
The signing ceremony which took place at Alfaisal University was witnessed by officials from both institutions, Mr. Mario Bach, Director Human Resources, People Development & Training, Fraport Saudi Arabia, Dr. Ronald Bulbulian Vice Provost for Academic Affairs, Acting Provost, and Acting Dean for College of Science & General Studies, Dr. Ala Al Bakri, Professor & Vice Provost for Accreditation and Quality Assurance, Dr. Norman Wright, Professor of Management, Acting Dean College of Business, Dr. Mattheus Goosen, Associate Vice President for Research & Graduate Studies and Dr. Abdulhamid Al-Abduljabbar, Vice President for Student Affairs from Alfaisal University.
The common goals of the participating parties are to support training and technological collaboration and to benefit from each others' capabilities. Both parties will facilitate having guest lecturers from the Company at the University, allowing graduate student exchange projects, training of Company staff, having Company input on Alfaisal undergraduate curriculum, and having student internships at the Company.
Ralph Schiffer, CEO, stated that it is important for "industry and educational institutions to work closely together to facilitate the country's progress" and looks forward to the "huge benefit this agreement will bring to both parties".
Fraport Saudi Arabia (FSA) is responsible for airport management and development of King Khalid International Airport, Riyadh and King Abdulaziz International Airport, Jeddah. FSA holds contracts with the General Authority of Civil Aviation (GACA) of the Kingdom of Saudi Arabia. In terms of community relations and regional support, Fraport is active in a variety of fields; it believes in supporting educational projects, to sponsoring sports events. Environmental protection and community relations rank high with Fraport. Whereas, the University seeks leadership in technical research and scientific development directly related to the needs of growth and production sectors in the country through applied research projects conducted by faculty and students. This will help to build a skilled and experienced workforce.
Alfaisal University welcomes this agreement with Fraport Saudi Arabia, in its efforts to build relationships and partnerships with industry locally, regionally and internationally enabling the university to produce graduates whose talents could be harnessed for the greater good of the country.
Alfaisal University is a private; not-for-profit teaching and research university that will contribute to the Kingdom's social, scientific, technological and economic progress. It collaborates with internationally renowned institutions and universities in medicine, engineering, business management and technology.