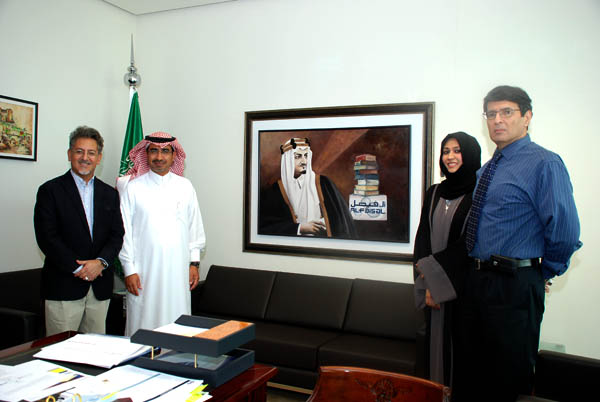 Following the success of Riyadh-based Pakistani artist Asma Tariq's grand two day solo exhibition " Variations of Islamic Art" (VIA) on April 16-17 at the College of Science, the artist re visited the University on Saturday 19th May 2012, where she presented Provost Dr. Faisal Al Mubarak  a King Faisal portrait.
Asma Tariq used a hitherto unpublished photo of the late King of Arabia, obtained from the King Faisal Foundation by Ms. Aljohara Al Saud, to paint her vision of King Faisal, famous for his zeal for advancing education in the country. The painting was started as a demonstration activity in one of the CoSGS Lecture Series presentations, where the artist used it before a live audience to demonstrate her techniques, and was completed per advice from HH Prince Bandar AlSaud, the chair of the executive committee of the Board of Trustees.
The painting will be housed in Dr. Faisal's office. Seen in the picture from left to right, Dr. Norman Swazo the Acting Dean of the CoSGS, Dr. Faisal Al Mubarak, the Provost of Alfaisal, the Artist Asma Tariq, and Dr. Hisham Abad director of the CoSGS lecture Series.