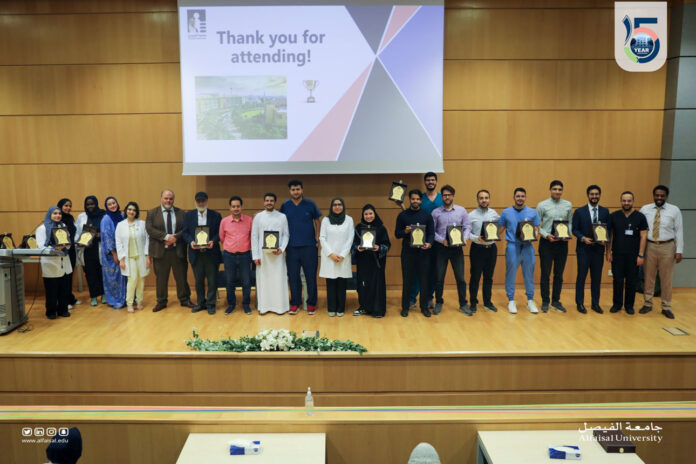 On May 18th, 2023, the College of Medicine held its highly anticipated Outstanding Mentor and Mentee Award ceremony, marking the first in-person event post-COVID-19. This special occasion celebrated the outstanding mentors and dedicated students who have contributed to the program. Under the patronage of Dr. Khaled Al-Kattan, the esteemed Dean of the College of Medicine, this prestigious award recognized the collective efforts and commitment of mentors and students.
The winners of the Outstanding Mentor Award for this year were announced as follows: Dr. Naser Haj Aissa, "Most Supportive Mentor"; Dr. Ayman Hassan Behiery, "Most Caring Mentor"; Dr. Raed Al Bar, "Most Motivating Mentor"; Dr. M Mohanad Al Hennawi, "Most Positive Mentor"; and Dr. Abdullah Shaik, "Most Popular Mentor." These individuals exemplified extraordinary mentorship qualities, going above and beyond to support and guide their students.
In addition to acknowledging exceptional mentors, the event recognized the remarkable growth and progress of individual mentees. The recipients of the Mentee of the Year Award were Amal Musa, Lein Fatani, Jana Korini, Abdulrahman Alnwiji, Nora Alyahya, and Dawood Almousa. These students showcased remarkable dedication and improvement throughout their mentorship journeys.
Furthermore, the Mentorship Program honored individual students for their impressive accomplishments. The "Dr. Omar Maraiati Award for Outstanding Student Support," named after esteemed graduate Dr. Omar, was presented to students who exhibited exceptional dedication to mentoring and supporting their peers, particularly juniors. The deserving recipients of this award were Dr. Osama Yaheia, Dr. Abdulaziz Alhassan, and Dr. Faisal Farwana, founders of the initiative "Students as Mentors." Their commitment to assisting fellow students made them deserving of this prestigious recognition.
The event also featured the "Dr. Mohammed Al-Sadoon's Humanitarian Award," named after the late graduate Dr. Mohammed, founder of the SMILE initiative. This award honored students actively engaged in community service and exemplifying the spirit of giving. The deserving recipients of this award were Dr. M. Yman M. Hassan Brghwth, Dr. Maryam Thamer Altayeb, and Dr. Haroon Ahmed Javaid, who carried forward Dr. Mohammed's legacy through their humanitarian endeavors and by mentoring their younger peers.
The Outstanding Mentor and Mentee Award ceremony celebrated the unwavering dedication, support, and accomplishments of mentors, mentees, and students. It highlighted the significance of mentorship in fostering growth, and the College of Medicine proudly recognized these exceptional individuals for their contributions to the program and the broader community.