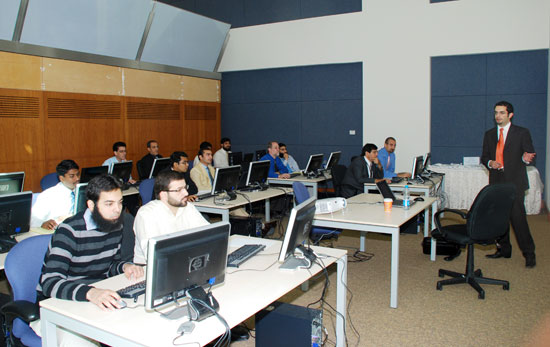 Alfaisal University IT Services conducted two workshops on Moodle Learning Management System (LMS). The first workshop conducted is designed for administrators to manage the technical aspects of the LMS and the second for instructors on using Moodle for teaching purposes. The workshops were conducted over four days in a fully equipped and connected computer laboratory at the campus and attended by staff and faculties from all business units.
The primary objective of our Learning Management System is to provide Alfaisal University with a fully integrated learning system for higher education. This system will allow our faculties to deliver outstanding services to support Alfaisal's vision for high quality education with cutting edge technologies. For this, the IT Services has evaluated known LMS's, selecting Moodle because of its functionality richness, ease of use, open source, and large user community.
Moodle will serve as a single repository of learning resource for Alfaisal that automates many learning activities such as assessments, assignments, workshops, surveys, on/off line discussions, messaging, and FAQs.
The use of Moodle will also enable educators at Alfaisal University to create online courses utilizing different types of resources, presentations' formats, and communication tools thus making Moodle an excellent dynamic and collaborative digital learning platform for fostering educational growth amongst its users.