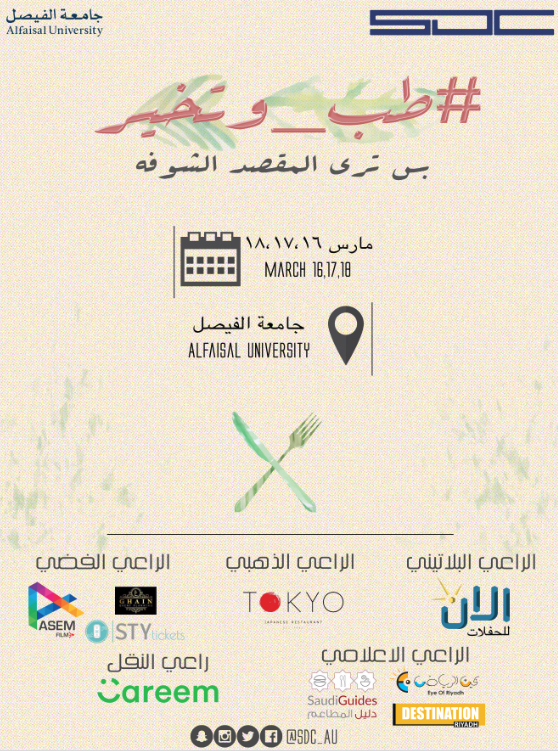 السلام عليكم!
عدنا و معنا
#طب_وتخير
أكبر تجمع شاحنات، عربات، و كشكات الاكل مع اكثر من ٨٠ مشارك معنا
الفعالية سوف تقام في جامعة الفيصل
١٦-١٧-١٨ من شهر مارس
سيبدأ البيع في الجامعة ابتداء من اليوم
الاحد من الساعه ١١ الى ٣
التذكره ستباع بسعر ٦٠ ريال فقط!!
للنساء: أمام المسرح الصغير
و للرجال: بجانب الكافيتريا
أو يمكنكم شراء التذاكر من هذا الموقع
http://stytickets.com/event/alfaisalsdc/
ولا تفوتكم اكبر فعالية ل لجنة التطوير الاجتماعي
*تنويه: الفعالية للعوائل فقط
و لتفاصيل اكثر الرجاء زيارتنا
HELLO Alfaisal
HOPE YOU'RE READY FOR WHAT'S COMING YOUR WAY
-We are proud to announce SDC's biggest event yet-
طب_وتخير#
Don't miss out on the biggest food festival of the year with more than EIGHTY food vendors participating in the event!! (Food trucks, booths, and carts)
It is going to take place in Alfaisal University on the 16th-17th-18th of March
Collect your tickets for 60 Riyals ONLY at our booth from 11 AM until 3 PM starting this Sunday.
Females: In front of the female theater.
Males: Next to the cafeteria.
Or you can buy the tickets using this website:
http://stytickets.com/event/alfaisalsdc/
   فعالية طب وتخير | Sty Tickets
*Disclaimer: This is a family's only event