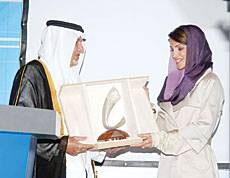 Alfaisal University participated in The Sixth Annual Learning and Technology Symposium which was organized by Effat College at the Jeddah Hilton hotel on Saturday and Sunday April 26th and 27th.
Promoting the theme of "Cyber Citizenship: Vistas and Visions, the event was received exceptionally well. The event was attended by Queen Rania of Jordan, and Prince Khalid Alfaisal who were present at the inaugural ceremony. Among the many distinguished and high profile attendees were members of the royal family, in particular princesses who support the college. Alfaisal University's Dr. Ala Al Bakri the Vice Provost for Accreditation & Quality Assurance delivered a presentation about "Alfaisal University and the UPP as an emerging High-Tech Quality Educational Program in KSA". The presentation was very well received raising many questions and inquiries about Alfaisal University and its programs.
The symposium consisted of keynote presentations, panel discussions, group presentations, as well as the highlight of the event: the Education and Technology Exhibition that had stands from around 40 companies in the fields of technology, education, banking and healthcare and many more.
As part of the exhibition Alfaisal University had an information booth at the even and attracted over 100 interested students and parents. A variety of students came from schools, colleges and universities from across the Kingdom showcasing their technology-related projects.
The event marked the launch of a Professional Development Network that allows the program's graduates to become members of an IT club and hold monthly activities to further develop the use of technology by all.