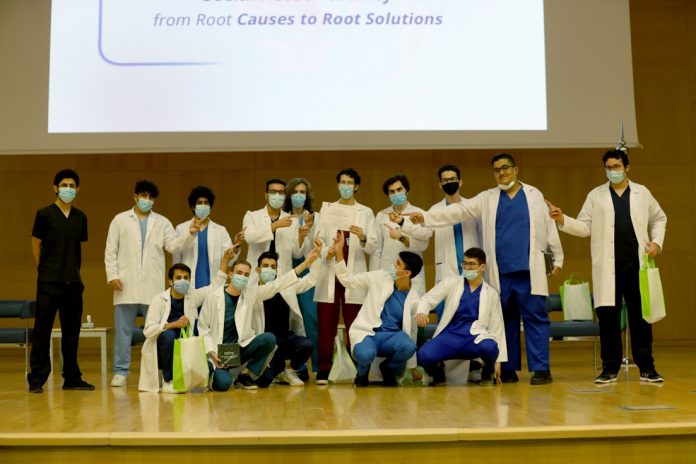 28th of November 2020: Alfaisal University Department of Family and Community Medicine concluded successfully its special edition of their Annual Health Promotion Event, conducted as part of the COM 116 course. The 8th Health Promotion Hub was organized under special circumstances, believing in the importance of such activities as a cornerstone in the college experience and building teamwork, project management, and presentation skills.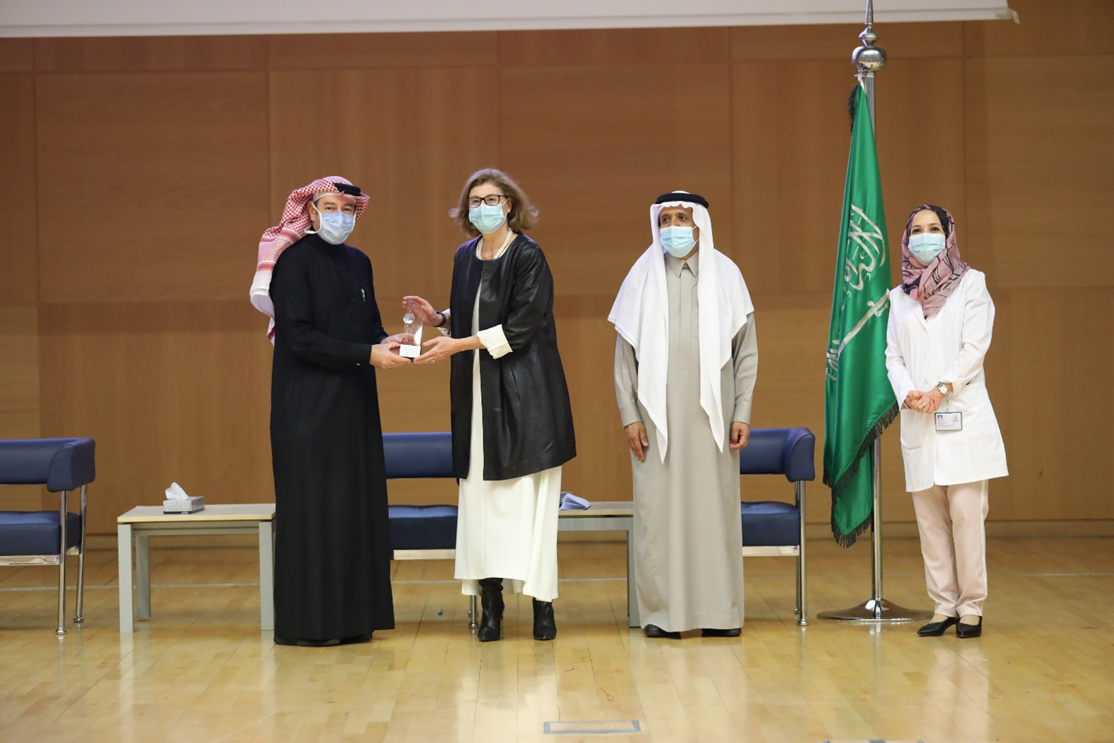 The health promotion hub topics were about Social Determinants of Health and how can Alfaisal University satisfy the social accountability towards them with a special focus on their effect during a pandemic.
The event took place on November 28th, 2020, with the participation of 13 different teams consisting of +350 students, and 23 enlisted judges. The participating teams presented their project in Princess Haya Auditorium in the attendance of their family, while the public joined online through zoom. The groups were built around the weekly attendance groups which the students are part of to minimize breaking social bubbles while encouraging them to meet virtually as much as possible. This led to the creation of 13 groups ranging each from 23-30 students, further dividing each group to create an introductory A/V media, talk about the local perspective, talk about international perspective, and achieving social accountably about their topic.
The organizing team consisted of the Chair of the Department of Family and Community Medicine, Dr. Baraa Alghalyini, and faculties from the Department Dr. Racha Khalid, and Dr. Salim Alkodaymi. To assist with the 350+ students, interested Alfaisal senior students and graduates were designated as instructors and assigned groups, those are 4th Year Medical Student: Ms. Yara Abdulkader Akkielah, and Graduates: Dr. Ahmed Abdulraheem Bawazir and Dr. Shahd Hosam Alyousof.
The 23 enlisted judges ranged in location globally from Brazil, Haiti, Canada،, and the UNDP office. As well as Locally including Princess Nora University and National Guard Hospital in Riyadh; Ministry of Health first cluster in Jeddah; as well as Ministry of Health cluster in the Eastern Provence.
This event was a precedent in Hybrid teaching and is a novel experience in managing this huge number of students while maintaining social distancing.
The Winning Teams Are:
1st Place: (FB2) Postal code and housing quality as SDOH and social accountability (with emphasis during pandemics): Instructed by Shahd Alyousof. Team members:
| | | | |
| --- | --- | --- | --- |
| Kaniz Fathama | Kaniz Fathama | Kaniz Fathama | Talah Jihad Nammor |
| 1.  Sama Talal Alrasheed | Salma Emad AlKadhim | Salma Emad AlKadhim | Lyan Fahad Alotaibi |
| Batool Saleh Alsaleh | Athog Alwahabi | Amani Zainab | Farah Yaser Al Tamimi |
| Sadeem Alotaibi | Ruchira Gayatri Sivakumar | Anam Waheed Hashmi | Mohra Saeed Almahri |
| Meral Jehad AlZayer Leader | Meral Jehad AlZayer Leader | Meral Jehad AlZayer Leader | Meral Jehad AlZayer Leader |
| Dana Mohammad Altannir | Dana Mohammad Altannir | Dana Mohammad Altannir | Dana Mohammad Altannir |
2nd Place: (MA4) Access to healthcare services as a SDOH and social accountability: Instructed by Salim Alkodaymi. Team members:
| | | |
| --- | --- | --- |
| Raffi AlMutawa (leader) | Attas Alawi Alattas | Yazan Mohamed Almasry |
| Mohammed Emad Abushab | Mohannad Abdulghani Abuobaid | Ahmad Tarek Alissa |
| Ahmed Noor Eddin | Yousef Fares Shata | Abdulrahim Abdullah |
| Faisal Ahmed Ahmed Amaghlouth | Amro Elsaeed Elsaeed | Ghaith Khalid Mansour |
| Alwaleed Nasser Hwjazi | Fahad Bander Binmugayel | Alhussain Hashem |
| Abdelrahman Shehata Ouda | Nawwaf Al Anazi | Omar Hussien Barbour |
| Abdulaziz Abdullah Abalkhail | Abdulrahim Haytham Alabyad | Hamzah Muhammad Anan |
| Ahmad M. Faham | Rayan Nezar Alzughaibi | Yazan Rawas Kalahji |
| Yazeed Abdulaziz Alrodiman | Ibrahim Khalid Ibrahim Alodhaibi | Mohamed Abdul Shafie Elhadad |
3rd Place: (FA1) Socioeconomic status as a SDOH and social accountability (with emphasis during pandemics: Instructed by Ahmad Bawazir. Team members:
| | | | |
| --- | --- | --- | --- |
| Abrar Saleh H Alshakhoori | Lamis Samir Mohamed | Shamah Mohammed Shabi | Sara Ismail Wasfi Alagha |
| Lujain Hassan Nakshbandi | Hana Mohammed Abuyabis | Shorouq Abdulrahman Ayed Alharthi | Sara Alaaeldin Elhams |
| Latifa Abdulmohsen Alhgbani | Maha Dhib Alsubaii | Fatima Kazim Aldubais | Yafa Mohammad Abusamak |
| Shahd Abdullah Almutairi | Lazawarde Alkadi | Reem Khalil I Alhawaj | Entisar Alharbi |
| Rana Saud Moghnam (Leader) | Fatoon Zain ALzabidi | Rasil Othman Alnajdi | Sadiyah Mahomed |