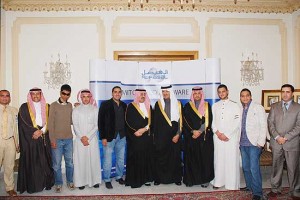 HRH Prince Sultan bin Salman bin AbdulAziz Al-Saud, President and Chairman of the Board of Directors Saudi Commission for Tourism and Antiquities launched the MIT OpenCourseWare mirror website at Alfaisal University, at an official ceremony on Sunday 27th December 2009 in the Late King Faisal Palace.
The official launching ceremony brought together senior management drawn from various educational institutions and industry related to technology. HH Prince Bandar Al Saud, Chairman of the Executive Committee for Alfaisal University presided over the historic ceremony which was attended by Alfaisal University Cofounders, Board Members and Leadership, including Acting Provost Dr. Ronald Bulbulian, and Acting Dean, College of Engineering Dr. Maher Alodan.
The MIT OpenCourseWare launching ceremony marked an historic event for education in the kingdom as Alfaisal University's College of Engineering pioneered the way, being the first educational institution to host MIT OpenCourseWare materials in the Kingdom of Saudi Arabia and the region.
HRH Prince Turki Alfaisal, HRH Prince Sultan bin Salman Al Saud, HH Prince Bandar bin Khaled Al Saud, Dr. Maher Al Odan
Dr. Maher Alodan, Acting Dean, College of Engineering stated, "OpenCourseWare is a revolutionary and original initiative by MIT to put all educational materials from MIT's undergraduate and graduate-level courses online. The cooperation between MIT and Alfaisal University will make these vast and top-quality materials available and accessible inside Saudi Arabia and all over the region through the mirror-website at Alfaisal University. We will also be taking the initiative in arabising some of the course materials on the website to increase its accessibility for our users". Please visit http://ocw.alfaisal.edu
Alfaisal University is a student–centered teaching and research University committed to building national and international partnerships for growth and prosperity. It offers programs in the fields of Medicine, Engineering, Science and General studies and Business and has forged collaborations with leading international institutions such as Partners Harvard Medical International (PHMI), Massachusetts Institute of Technology (MIT), the Institute of Manufacturing of the University of Cambridge and appointed Professor Michael E. Porter as advisor to the College of Business. As part of it's commitment to develop affiliations and collaborations with leading global corporations, institutions and organizations, the Alfaisal University College of Engineering signed a Memorandum of Understanding with Massachusetts Institute of Technology (MIT).
MIT OpenCourseWare is a free and open educational resource for educators, students, and self-learners and supports MIT's mission to advance knowledge and education on a global scale. Moreover, MIT-OCW is a publication of MIT course materials, and hence that makes courses taught by MIT faculty more accessible.
Alfaisal University has hosted the course materials as part of the MIT's OpenCourseWare program's mission to extend the reach and impact of OCW materials throughout the world. Like Alfaisal University, OCW content has been installed at a small number of mirror sites, at educational institutions, and evaluation data show that these mirror sites are having a significant positive impact on teaching and learning in regions where these mirror sites are set up.
The hosting of MIT OpenCourseWare at Alfaisal University shows its commitment to disseminating high standard educational materials to the community. Through the hosting of MIT OpenCourseWare, Alfaisal University would make course materials that are used by MIT Faculty's in the teaching of almost all of MIT's undergraduate and graduate subjects more accessible to students and educators from Kingdom of Saudi Arabia in particular, and from the Middle East region in general.
As a Mirror Site Program Partner, Alfaisal University continues to fulfill its mission being an active part of the world wide community of educators and learners who are demonstrating the power of unlocking knowledge.