March 2021: Alfaisal University students took part in the World Intellectual Property Organization (WIPO) "How does AI work?" competition in November 2020 where participants were asked to send in short videos explaining AI in an accessible and engaging way for a broad range of audiences. The competition was open for data scientists, developers, companies, academics, and students. Students enrolled in artificial intelligence (AI) courses at the College of Engineering's undergraduate and graduate programs participated in WIPO's competition in November 2020.
A student enrolled in the Masters in Engineering Management (MEM) program, Sara Ghaleb Alhamdani, was selected as one of the two winners in this global competition and her video is featured on the WIPO AI Exhibition page https://www.wipo.int/about-ip/en/artificial_intelligence/exhibition.html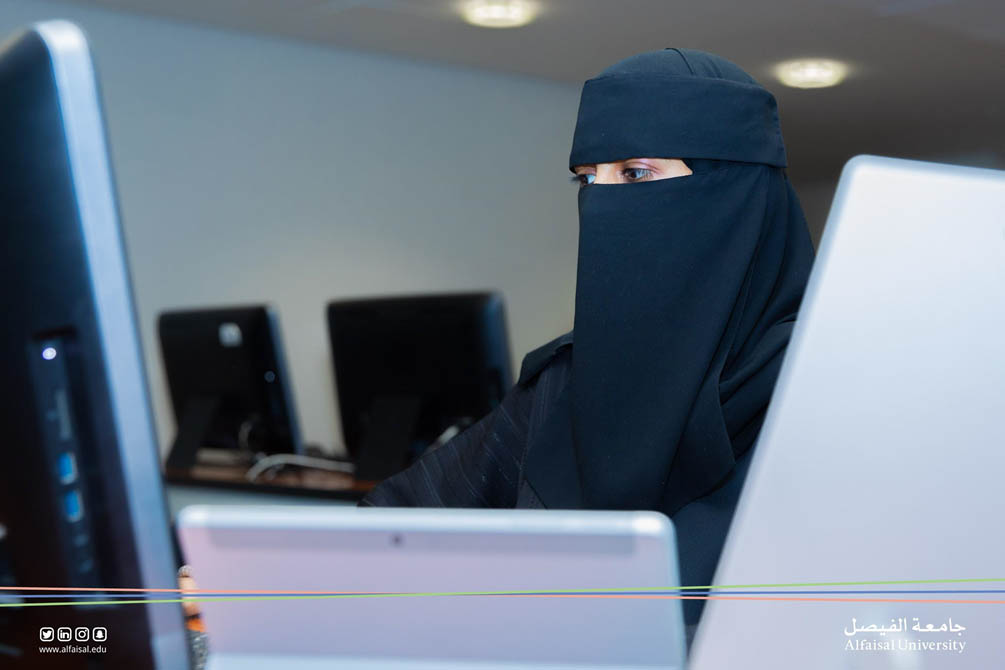 The submission was based on Alhamdani's work in a graduate course on applied computation and data science. The Masters course explored AI topics and applied domains for machine learning and data science in the local context of Saudi Arabia.
"The submission was motivated by the desire to raise awareness of AI concepts in our local language and was designed with a target audience of local Arabic-speaking populations." said Alhamdani. "To be recognized by the review committee of WIPO's competition in my master's journey is an honor and an inspiration for me to push the limits further". Alhamdani's video contributes towards enriching the Arabic content in AI instructional media and advancing our understanding of AI models.
"We are proud of our students' accomplishments, and this recognition highlights Alfaisal University's interdisciplinary academic community and demonstrates how extracurricular activities and competitions can inspire achievement," said Areej Al-Wabil, Director of Alfaisal's AI Research Center and course instructor for the AI course. "Alfaisal University's AI courses aim to make the fundamental topics in AI and data science approachable and relevant by using real-world examples and prompting learners to think critically about applying these new understandings to their own projects and extracurricular activities," Al-Wabil continued. "In this competition, students co-created video submissions that aim to advance their understanding of modern AI and data science landscapes and recognize major concepts and tools in the field of AI and determine where they can be appropriately applied," Al-Wabil said.
Alfaisal University, which is home to the AI Research Center, prides itself for being a hub for local talent in the field of AI in Saudi Arabia with a vibrant community of technologists, scientists and engineers working together to foster a wider understanding of the relationship between intellectual property (IP) Policy and AI and the questions raised for policymakers, technologists and the community.