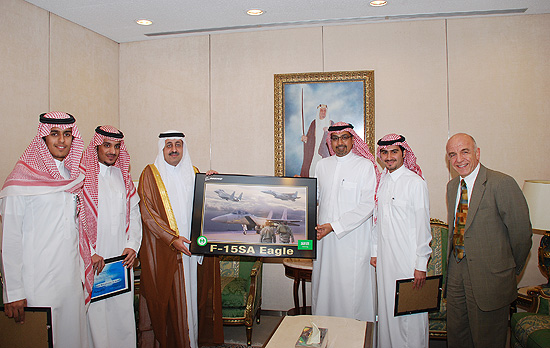 Saad Al Assaf, and Abdullah Al- Ibrahim, two full time second year students at Alfaisal University who have a diverse academic background in engineering, finance and management, were selected by the university to join a three week Boeing Fellowship Program, accompanied by Adel Thaib from the university's administration. During this fellowship program, they had the opportunity to visit Boeing sites in Chicago, St. Louis, Seattle and Washington, DC. where they met with Boeing business and technical professionals, participated in leadership training and learned about the company's business activities values and culture.
Mr. Ahmad Al -Jazzar, President of Boeing Saudi Arabia stated "The Boeing Saudi Arabia Fellowship Program is the first pilot program the company initiated this year and we are proud to launch this with students from Alfaisal University. I'm doubly proud, being a Saudi national that these students did a great job as ambassadors for the University and our country, through this program we are reaching out to the business and political leaders of tomorrow and developing a partnership with Alfaisal University, which is a leading academic institution in Saudi Arabia"
"The Boeing Saudi Arabia Fellowship Program is one of many global efforts by Boeing to reach out to young people around the world, to develop partnerships with academic institutions in the many countries where Boeing does business and to lay the groundwork for future technical and business partnerships".
HH Prince Bandar bin Saud bin Khalid Al Saud, Board Member and Chairman of the Executive Committee, Alfaisal University, congratulated the students ,thanked Boeing for its support and initiative, stating "This is just an example of the real benefit Boeing can bring to this University, Alfaisal University is committed through it's mission to provide unique opportunities for its students to gain valuable professional experience and build leadership skills , and we will continue to develop hands-on programs for our students, designed to mentor and cultivate today's young leaders, strengthen their understanding of business and industry to prepare them for future opportunities".
In 2001 Boeing joined the ambitious program, initiated by the King Faisal Foundation to establish Alfaisal University, as a co founder. "Since then Boeing like our many other affiliates have contributed their skills and expertise to this University, and through this fellowship program our students have been able to gain real world experience. We believe that it is vital to bring new minds into industry, and we hope to see these new minds as the future Boeing leaders of tomorrow", said Saphia Ikram, Spokesperson, Alfaisal University.