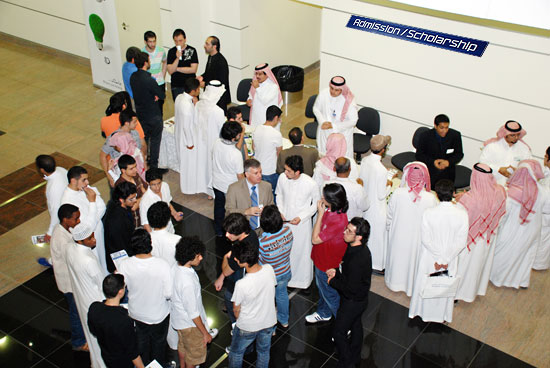 The Alfaisal University Open House 2010 attracted over 600 prospective students from around the Riyadh region to come and learn about the university, and the academic programs available for undergraduate study with guest of Honour, and co-founder of the University; The Boeing Company, exhibiting at the event.
Held on 10th & 11th May in the University campus, the Open House was primarily designed as an informative evening to help prospective students and their accompanying parents make their decision on which academic path to pursue. The Colleges of Business, Engineering, Medicine and Science and General Studies all exhibited at the event, with Deans from the colleges having a one-to-one with students enquiring about their college programs.
At the Open House 2010 this year Alfaisal University decided to invite guest of Honour and one of the co-founders, The Boeing Company to exhibit. The Boeing Company was represented by the company's executives who attended both evenings of the Open House and attracted many inquisitive students and their families. Boeing executives talked about the company's relationship with Saudi Arabia, their affiliation with the University, the Boeing Saudi Arabia Fellowship Program and advised students on career opportunities in the aviation and aerospace sector.
Saphia Ikram, Spokesperson for Alfaisal University stated, "Open Houses allow students to get a 'feel' for the University and student life and to help them decide whether Alfaisal University is the right place for them to pursue their academic careers. This year we have given students an opportunity to explore their career goals too with our co-founders The Boeing company".
Prospective students and their parents also had the opportunity to tour the campus with first and second year students, look at facilities, visit labs and were given an informative presentation on Scholarships available to students interested in studying at Alfaisal, the admissions requirements and process as well as a panel discussion led by the college Deans and students