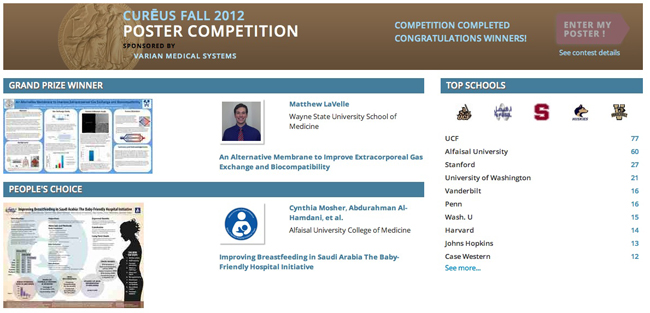 Alfaisal University works intently on encouraging its students in research. This was recently highlighted through the achievements of many of the students of the College of Medicine through their participation in an international poster competition.
Having won second place in this year's Alfaisal University Research Poster Competition for their research poster "Improving Breastfeeding in Saudi Arabia: The Baby Friendly Hospital Initative", the Baby Friendly Hospital Initiative Team decided to take it to the international competition level. They entered the Cureus Poster Competition 2012, which received over 500 poster entries from students from some of the most renowned medical schools around the world. The Baby Friendly Hospital Initiative Team garnered the most votes during the competition winning the People's Choice Award. As well, Alfaisal University became the second ranking Top School with 60 posters submitted, surpassing universities such as Stanford, University of Washington, Penn State, Harvard, Vanderbilt, and Johns Hopkins.
"Through this competition we gained fabulous recognition for our work, but more importantly we have the honor and pride of representing Alfaisal University's academic and research excellence it conveys to its students.  The excitement of our entire student body supported us and cheered us on throughout the competition. I am so very privileged to be a part of a wonderful team, with every single member working intently to push our research to the forefront. This was truly a concerted effort put forth in grand style by Asma Alhoulan, Reem Hamada, Tehreem Khan, Abdurahman Al-Hamdani, Alaa AbouBakr, Yosra AlMakadma, Abdullah Sarkar, and our mentor and advisor Dr. Abiola Senok," says team leader Cynthia Mosher. "Without their perseverence, hard work and commitment we would not have been able to acheive what we did. I also extend my deep appreciation to Dr. Hasan Rajab and Mr. Fouad Jabri for their initial seeding work and support in helping us get our start in research and to Dr. Khaled AlKattan, Dean of Medicine, for his enduring support and encouragement.
In addition to the BFHI Team's award, ten Alfaisal University student posters won top places in the competition's various categories of medical research. Please join us in offering congratulations to the students and to Alfaisal University College of Medicine for these wonderful achievements.
To read the Cureus press release, watch the announcement video and see the winning posters visit  http://blog.cureus.com/fall-2012-poster-competition-winners/
The Alfaisal Winners:
Allergy/Immunology – 3rd Place Fatimah Alghamdi "Upregulation of Heat Shock Protein 72 (Hsp72) Expression in Rhabdomyosacarcoma Cells"
Cardiology – 3rd place Mohamed Danny Ray-zack "The Effects of a 2% Weight Change on Autonomic Modulation and Systolic Blood Pressure in Obese Young Men"
Diabetes & Endocrinology – 2nd place Abadalla Gazal, Abdullah Magdi AbuNimer, Kawthar Almuttalebi, Salman Alshakaki, Waseem Saadeh "Role of Heat Shock Proteins in the Prevention of h-IAPP Aggregation in T2DM"
Family Medicine – 3rd Place Adeeb Sebai "Sports Medicine: Public Awareness"
Epidemiology – 1st Place Mohammed Riyadh AlSadoon "Measuring the Level of Colorectal Cancer Awareness among Members of the Saudi Community"
Nephrology – 2nd Place Nour Eddin Farouq Alshaaer, Eyad Marashli, Mohanad Mahgoub, Ahmed Abdulhadi Alashqae "The Prevalence of Insomnia in Medical Students: Impact on Academic Performance"
Oncology – 1st Place Abdullah Sarkar, Abdullah Sarkar, Haneen Baitalmal, Mohammad Osama Haqeequlla, Afzal Alam,Mohammad Saleem Kodaymi, Nagraja Mallappa, Alexander Asea "Silencing the HSP27 Gene Suppresses Growth and Migration Capabilities of PANC-1 Cells"
Pediatrics – 3rd Place Areej Rahman "Autism: The Obscure Puzzle"
Public Health – 1st Place Fatima Iqbal, Duha Salim, Fatima Abrar Ahmed, Manal Aziz, Safia Andleeb, Tamara Ibrahim, Amna Tarin "Domestic Violence in the Kingdom: Perception and Awareness"
Public Health – 2nd Place Cynthia Mosher, Abdurahman Al-Hamdani, Asma Alhoulan, Tehreem Khan, Reem Hamadah, Yosra AlMakadma, Alaa AbouBakr Hashem, Abdullah Sarkar, Abiola Senok "Improving Breastfeeding in Saudi Arabia The Baby-Friendly Hospital Initiative"