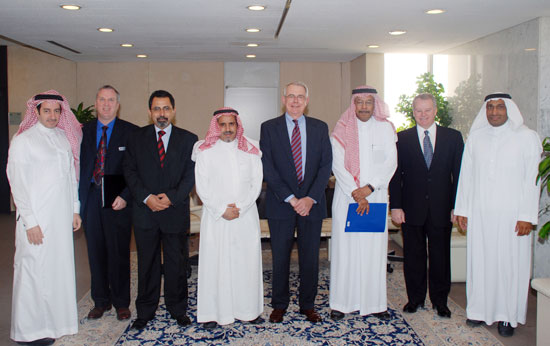 In a continued effort to further develop relationships and ties with our University Stakeholders, Alfaisal University Leadership presented an informative progress report to our BOT members, Dr. Abdulrhman M. Abuammoh and Dr. Abdullah A. AlMusallam, last week.
Alfaisal University BOT members, Dr. Abdulrhman M. Abuammoh, Professor Department of Statistics & Operational Research, at King Saud University and Dr. Abdullah A. AlMusallam, Secretary General for the National Commission for Academic Accreditation & Assessment and Professor of Civil Engineering at King Fahad University of Petroleum and Minerals, visited the King Faisal Foundation on Monday 21st April 2008. They were welcomed by Alfaisal leadership Dr. Alan Goodridge, Dr. Christopher Shove, Dr. Terry Motiuk, Dr. Khalid Kattan, Dr. Ashraf Al-Khairy and Dr. Ala Al Bakri.
Dr Alan Goodridge presented our BOT members with the latest developments, updates and achievements surrounding Alfaisal University. Issues surrounding Campus Development, Faculty Recruiting and Female Student intake, were among the many discussion points. The out come of the visit was good as BOT members were engaged and immersed in the University's achievements. We were pleased to receive valuable and encouraging input from our board members.
Future meetings have been scheduled in the upcoming weeks, and we hope to keep you updated with all the valuable feedback we receive.
We look forward to your continued support and hard work which will take us from strength to strength.