On Wednesday, 21st of November, 2018, College of Business Executive Lecture Series welcomed Mr. Gianmario Pisano, The Management Consulting Lead of Accenture in the Middle East & Turkey, to give a lecture on the unique topic of "Storytelling and the Value of Emotions". In his presentation, he emphasized on the ability of stories to generate emotions, which increases attention, and enhances the release of some hormones that are related to Empathy, Connection and Relaxation.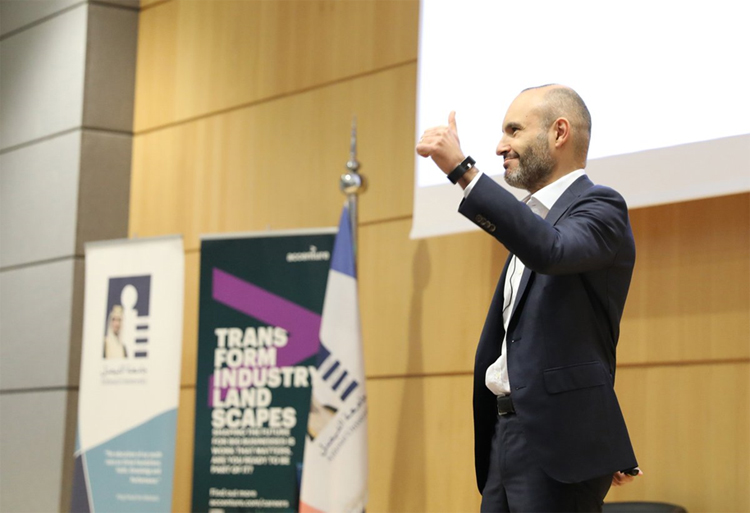 Mr. Pisano talked about the ''Causal Thinking'' and how our brains naturally work by creating causal information then spreading the knowledge through storytelling, because our brain prefers stories over facts and numbers.
But, are stories told through the history of humankind with different languages, cultures, believes and backgrounds has anything significant about it? Mr. Pisano addressees this point stating that ''the shape of stories is universal, you start by introducing the characters, then the main crisis or event, then there is a peak where the conflict has to be faced, then the story goes down in intensity again after the conflict is resolved, reaching a more peaceful end'', and to express that he mentioned the example of the classical folk story ''Red Riding Hood'' where the girl goes to visit her Grandma, and while walking in the woods she interacts with a wolf who follows her, then the story reaches its peak when Red Riding hood and her Granny are both eaten by the wolf, the intensity decreases towards the end when the woodsman discovers the wolf and takes action against it.
As a member of the audience, there were few intriguing questions in my mind while listening to the speaker, the first one being '' what was the main message the speaker wanted the audience to receive through his lecture?'' and to answer that Mr. Pisano responded ''we live in a world where data are increasingly available, and we also have the capacity to make sense of them, to find the pattern and make decisions automatically. Machines now can make decisions humans used to make just by looking at the data, and that is super useful because you save a lot of time especially when u make a lot of effort trying to make micro decisions. However, I don't think you will ever see a computer making an entire country change its direction, you will never see a computer inspiring humanity to change its course of action because that's not the way they work. Probably, you will never see a computer so sophisticated to manage emotions the way we do, that's our scope. We need to bring that sort of distinctive trait to the work environment, because before there were no machines to process data so people had to do it, now we should focus on the value added by us'',
And in terms of storytelling, it's always been used as a tool for selling objects to consumers, but is it as effective if we are going to promote an idea to an investor? Or shall we rely back again on numbers, facts and data? '' Look, storytelling has always been used to sell goods, services and ideas'' says Mr. Pisano ''I think if you look at politics today around the world you will see a lot of storytelling and very little facts and data. We need storytelling for a good cause, to create more meaningful connection with the people we work with, the machines can take care of data, but what we need to do is to inspire, transfer values and make people passionate about things, we can't do that with data, we need to call into people's emotions''.