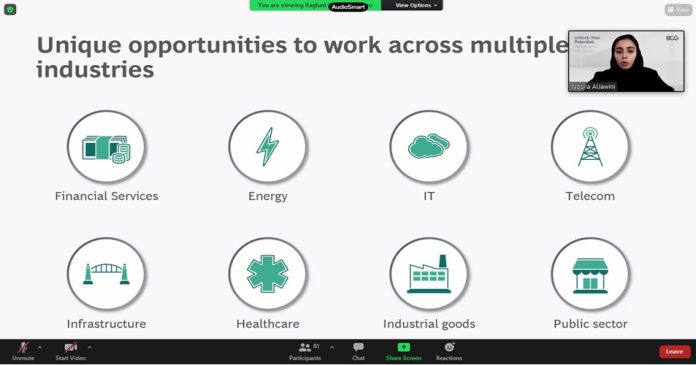 Boston Consulting Group (BCG) HR recruiting team gave a lecture titled "Consulting Careers – Get to know BCG" to the students of College of Business. The presentation took place on Wednesday, November 10th, 2021 online via zoom as part of COB Executive Lecture Series.
The aim of the session was for BCG recruiting team to give an overview of BCG Jeel Tamooh (جيل طموح) program, lines of services, and available internship and job opportunities. The Jeel Tamooh program will upskill undergraduates and get them ready for the labor force through exposure to the consulting industry. The lecture focused on the knowledge and leadership skills needed to excel in the field of Consulting. Following the lecture, BCG HR team hold a Q/A session for internships and employment opportunities at BCG.
Many students consider BCG as an important company for internship and job opportunities. Organizations such as BCG has potentials in helping students to develop their professional skills, as well as help them in their careers' development.
The lecture is part of College of Business Executive Lecture Series to provide Alfaisal University students and guests from the business community the opportunity to learn from some of the country's leading executives and leaders as they share their experiences.  College of Business sponsors the weekly Executive Lecture Series to bridge the gap between the world of leadership and business education.