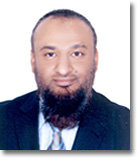 Orthopedic implants are an integral part of a country's national health policy and critical to the quality of life of orthopedic patients. Dr Rehan Ahmed a Professor in the College of Engineering at Alfaisal University, in collaboration with his colleagues at Heriot-Watt University, Edinburgh and Kings College London, recently filed a patent application (PCT) in the field of surface coatings for use in orthopedic implants. The IP (Intellectual Property) of this patent is jointly shared between the researchers involved, Alfaisal University and entrepreneurs who provided funding stream for this research.
Dr Rehan Ahmed explained "……….. although the use of Hydroxyapatite coatings in human implants is currently commercially available, our new patent technology will reduce the rejection rates and improve the time to recovery of human implants via stronger and more biologically active coatings used in the patent technology ……"
Although the researchers in this patent application have made scientific achievements in the inception and use of this novel technology, there is still work needed for necessary R&D and route to market. There is tremendous commercial potential for surface coating technology in particular as it applies to the 19 billion US$ global market.