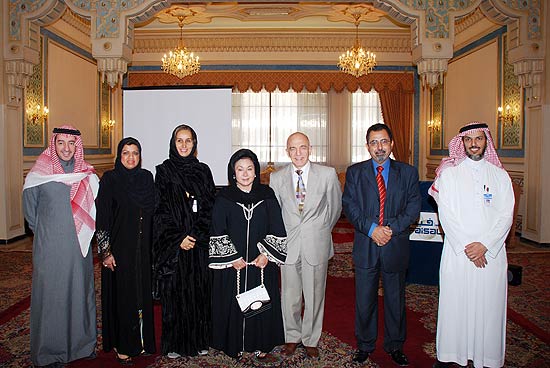 Her Excellency Rosmah Mansor, Malaysian first lady, on her official visit to the Kingdom, was the guest of honor at Alfaisal University; a leading world class research based institution in Riyadh, on Saturday, 16 January 2010.
Greeted by HRH Princess Dr. Maha Bint Meshari, Executive Director for External Affairs, Dr. Ronald Bulbulian, Acting Provost, Dr. Ala Al Bakri, VP for Accreditation & Quality Assurance, and Dr. Khaled Al Kattan, Dean College of Medicine, Alfaisal University, the Malaysian first lady was given a tour of the campus which includes buildings of the four colleges. (The Late Rafiq Al Harir Building) College of Science, (Sheikh Saleh Abdullah Kamel Building) College of Business, (Sheikh Mohammed bin Laden Building) College of Engineering and (Sheikh Mohammed Hussein Ali Al Amoudi Building), College of Medicine.
At the palace of The Late King Faisal, the first lady and her delegation which consisted of the spouses of the Minister of Foreign Affairs, the Minister of International Trade and Industry, the Chief Ministers of Pahang, Perak and Malacca; the spouse of the Ambassador of Malaysia in the Kingdom; the spouses of the Special Officer, the Private Secretary and the Assistant Officer to the Prime Minister; the spouses of the Minister Counselor, the Counselor and the Second Secretary; the Principal Private Secretary to the Chief Minister and some businesswomen in Malaysia, were given a briefing by Alfaisal leadership, on the university's mission, its academic programs, research focus and its achievements to date.