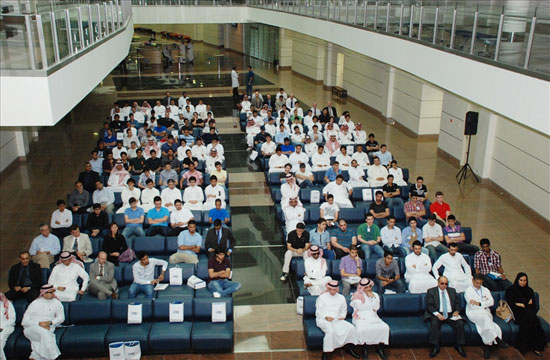 Alfaisal university hosted Orientation day for all new students on Saturday 10th September 2011. Over 300 new freshmen students; male and female participated in their orientation days where they were officially welcomed Provost, Dr. Faisal Al Mubarak, Dr. Maha Al Saud, Executive Director of External Affairs, and Senior officers.
Provost Dr. Mubarak addressed the freshmen students stating 'We recognize how important it is for you to be well prepared for the commencement of classes. To assist you, this Orientation Day is held before classes start to help you make the transition to university life and study – We see ourselves as one family, and I welcome you to the Alfaisal family, you are now part of us'.
Students were strongly encouraged to attend this program which covered topics such as the role and services of the Student Affairs, student support services, various student activities and clubs available for students to participate in, introduction to email accounts, library skills, and where to access assistance during semester if students need it. In addition there were tours of the campus and library available.
Students also had the opportunity to meet Deans and other students enrolled at Alfaisal who could answer any of their questions about study and life at Alfaisal. Spokes person for Alfaisal University Saphia Ikram stated, 'First day at University is always a nerve-racking experience for any freshmen student. Alfaisal Orientation Day is designed to orient new students, address all the concerns of our new students, show them all the places they'll need to know and to help our students settle in and feel more comfortable about starting university'.