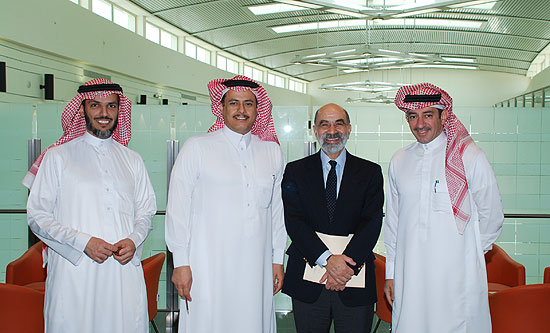 Professor Fawwaz T. Ulaby, the founding Provost and Executive Vice President for Academic Affairs of the King Abdullah University of Science and Technology (KAUST), a graduate research university under development along the Red Sea in Saudi Arabia visited the Alfaisal University campus on Monday 11th May 2009.
On a two day visit to the Kingdom Professor Ulaby was welcomed by Alfaisal leadership Dr. Khaled Al-Kattan, Dr. Maher Alodan, Dr. Abdulhamid Al-Abduljabbar and Dr. Maha bint Mishari AlSaud.
During the visit to Alfaisal, Professor Ulaby was given an informative presentation highlighting the university's aspirations, goals and its commitment to its mission which was followed by discussions and a tour of the campus led by Dr. Maher Alodan.
Prior to assuming the position of Provost at KAUST, Professor Ulaby was the R. Jamison and Betty Williams Professor of Electrical Engineering and Computer Science at the University of Michigan, where he had also served as Vice President for Research (1999–2005).
Since joining the University of Michigan faculty in 1984, Professor Ulaby has directed numerous interdisciplinary, NASA-funded projects aimed at the development of high-resolution satellite radar sensors for mapping Earth's terrestrial environment. He also served as the founding Director of a NASA-funded Center for Space Terahertz Technology, whose research was aimed at the development of microelectronic devices and circuits that operate at wavelengths intermediate between the infrared and the microwave regions of the electromagnetic spectrum. Over his academic career, he has supervised 115 highly motivated and talented graduate students
On his short visit Professor Ulaby stated how important it was for the university to stay committed to its research mission and not to compromise in terms of quality of students and faculty. Spokesperson for Alfaisal University, Saphia Ikram asked the professor what this visit will bring, "I hope this is the beginning of a lasting relationship with Alfaisal, the University has the right concept and goals in the right direction and I am happy to help as a supporter friend and colleague in achieving its mission"… "You have accomplished a lot in a short space of time" adding that the University has "wonderful goals".
As the recipient of numerous honors and awards from universities, government agencies and scientific organizations for his outstanding teaching and distinguished scholarships, along with his extensive western experience it is key figures like Professor Ulaby that Alfaisal University looks to forging close relationships with in the effort to achieve its vision as a world class University.