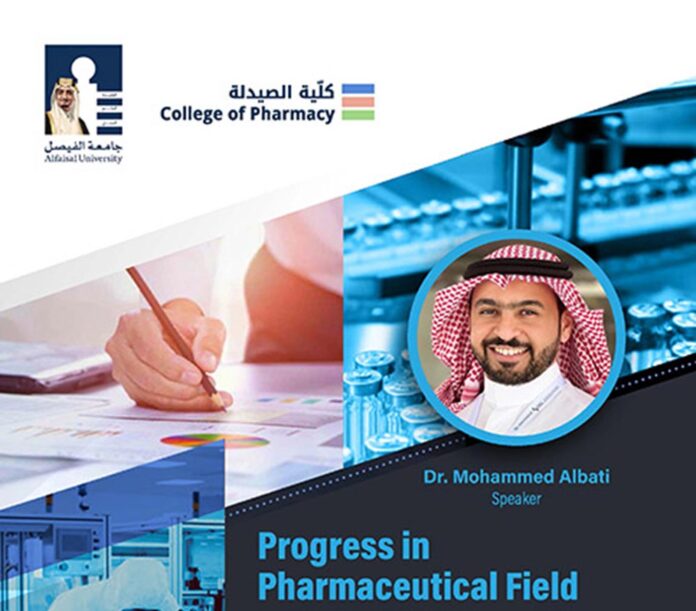 Monday, 16 January 2023: As the College of Pharmacy at Alfaisal University strives to contribute to its students' academic and professional development, they invited Dr. Mohammed Albati, a Product Specialist at Sandoz and a graduate of Doctor of Pharmacy from AlQassim University with a Digital Marketing Diploma, to present a lecture on the Progress in Pharmaceutical Field to Alfasial students.
In his presentation, Dr. Albati discussed how to obtain a job, application requirements, the function of a pharmacist in pharmaceutical businesses, problems, required skills, and work progress.
In order to practice, a graduate must have the SCFHS License in addition to a bachelor's degree in Doctor of Pharmacy (Pharm B or Pharm D). Other credentials would be advantageous, such as sales certificates (LinkedIn Learning), PMP, and marketing.
A Doctor of Pharmacy candidate would always have work opportunities in various sectors, including research and development, regulatory affairs, manufacturing, quality, sales and marketing, and medical affairs and pharmacovigilance. Candidates can apply for such positions through several platforms, including LinkedIn, Telegram Groups, HR emails, and recruiting forums.
Working in the pharmaceutical industry requires a wide range of skills, including outstanding communication skills, adaptability, resilience, development abilities, time management, accountability, emotional intelligence, and self-awareness. Dr. Albati alluded to these skills as the primary instruments for addressing the obstacles he highlighted in this industry, such as working in a highly dynamic environment, traveling to cover remote areas, meeting sales targets, and performing non-routine tasks.
To guarantee the highest quality work and credentials, the employee must constantly prepare for the following position, volunteer or stretch assignment in the preferred role, self-branding, keep learning, step out of the comfort zone, and establish connections in their network.
Dr. Albati ended the lecture with a Q&A session to receive the attendees' inquiries and provide them with the most professional answers.