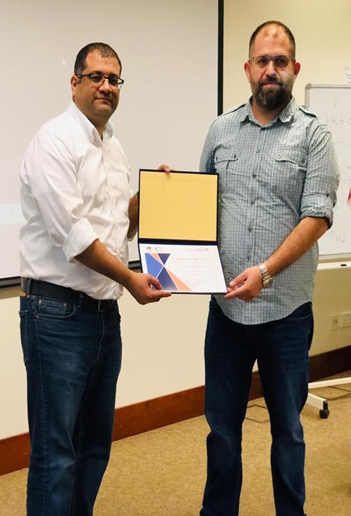 CoE-Quality Assurance & Accreditation office held a workshop in a series of important workshops under the broad title of التقارير الدورية للبرامج و المقررات والخبرة الميدانية Course & Field Experience Reports for Programs. The speaker for this seminar, Eng. Amjad Bou Matar, Laboratory Instructor of Electrical Engineering, College of Engineering. Such workshops are in the realm of knowledge transfer since Eng. Amjad has already attended this workshop at the training center at the National Center for Academic Accreditation & evaluation NCAAA.
The workshop received good attendance of several, previous and new, faculty members eager to learn how to best complete course reports. A specific focus was given to field experience course report.
At the end of the workshop, Dr. Abd-Elhamid Taha, Vice Dean for Research, Graduate Studies, Quality Assurance, and Accreditation, presented a certificate of appreciate to Eng. Amjad for his efforts in the preparation of the workshop.