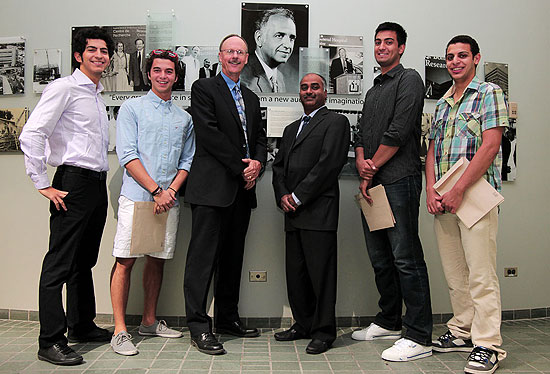 Alfaisal is a student-centered community entirely committed to ensuring that students have opportunities to succeed in their academic, co-curricular, extra-curricular, social moral and civic endeavors, not just while they are enrolled as our students, but through the remainder of their lives. All members of our student-centered university assist students in achieving their individual, academic and personal goals in accordance with the university's mission statement. This year we celebrate the achievements of our College Of Medicine students as they graduate from the St. Boniface Summer Program in Winnipeg that was coordinated by our College of Medicine faculty at Alfaisal.
In the summer months of 2009, a formal agreement was signed between St Boniface Hospital, Winnipeg, Canada (Coordinators: Dr. Grant Pierce and Dr. Bram Ramjiwan) and Alfaisal University Medical College (Coordinator: Dr. Paul Ganguly) to allow the two institutions to create innovative educational research collaboration. It is entitled "Advanced Training in Basic and Clinical Research Topics in Medicine". The program is rigorous and spans almost 8weeks at St. Boniface Hospital. After completing two semester curricula at Alfaisal University in Riyadh, Kingdom of Saudi Arabia, six medical students undertook a summer program in 2010 at St. Boniface Hospital Research Centre in Winnipeg. This year four medical students (Motaz Mohammad Fuad Alyafi, Omar Mohamed Al-sekily, Ahmed Naseer Warraich and Khaled Juan Zaza) participated in this program which lasted for two months and addressed advanced training in basic science research topics in medicine such as cell isolation, functional assessment, molecular techniques of analysis and manipulation as well as sessions on the conduct of clinical research trials, ethics and intellectual property management. The students received their Diploma on August 19th 2011.
The advanced training in the basic and clinical research topics in medicine that has been developed at the St. Boniface Hospital allows Alfaisal medical students to achieve their goals in a variety of ways. It has allowed the medical students to: a) become better educated about the basic and clinical research conducted throughout the world; b) feel more competitive; c) participate in research and obtain the first step to develop a research career; d) better evaluate the possibility of considering participation in a MD/PhD program in the future; d) become exposed to modern techniques in biomedical research; e) understand the administrative issues challenging biomedical research; f) obtain a clear appreciation of the potential for creating intellectual property in medical research and realizing commercial opportunities in this field; and finally f) gaining an understanding, tolerance and appreciation for cultural, racial and religious differences in not only those within the medical field but the general population as well. The benefit of this last factor is felt not only by those enrolled in the program but everyone in Winnipeg, Canada with whom the students interacted.