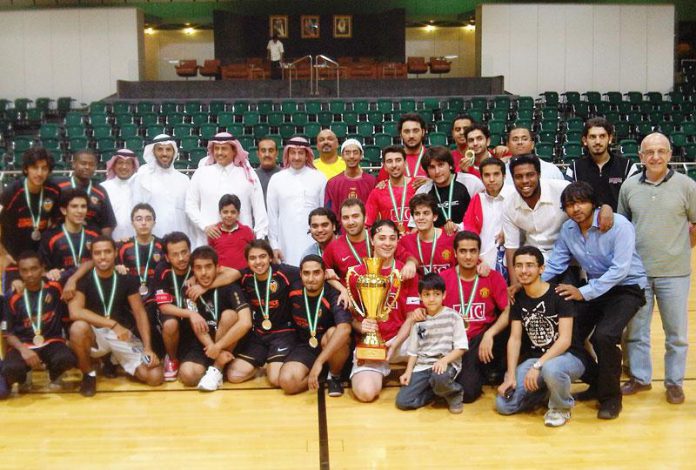 In recognition of the support and contribution of one of our valued Board Members and Donor, the sport committee of the Medical Student Association, Med-Athletes, planned a series of football tournaments battling it out for the prestigious Sheikh Al Amoudi Cup. Alfaisal University's college football teams which comprised of both faculty and students put on show their spectacular sporting skills in Riyadh, on Saturday June 13th 2009 for victory of the Sheikh Al Amoudi Cup.
The idea behind the Sheikh Al Amoudi Football Cup was founded by the Med-Athletes out of appreciation for Sheikh Al Amoudi. Sheikh Al Amoudi is one of the many successful business industrialists and philanthropists in Saudi Arabia who has pledged to support the University with a grant of SR. 80 million for the design and construction of the Faculty of Medicine. "We, the Med-Athletes, decided to name the first sport competition, the first cup in Alfaisal University, by the name of a man who has contributed tremendously towards the progress of this university".
Students and faculty alike signed up for the tournament with great enthusiasm and spirit. Seven teams were formed through randomized draw for the Cup tournament. After a grueling total of six matches between different colleges team the medical student team: Med-Utd and the engineering students' team went into the finals on Saturday June 13th where excellent sporting skills were displayed in a match to be remembered.
Med-Utd victoriously took the trophy after Anas AlKhani, scored the winning goal on penalties. The captain of Med-Utd Mohanad Abusaleh stated "I'm very proud to be part of the team who won the first Cup in Alfaisal University. It is an honor to be part of such a great event. We tried our best to win this cup for the medical college. It is always a great feeling when you set a goal and achieve it. I can never be grateful enough to my team-mates who did their best to win."
The Dean of the College of Medicine, Dr. Khaled Al-Kattan, personally handed over the Sheikh Al Amoudi Cup to the Med-Utd Captain and MSA Sport Representative, Mohanad Abusaleh. Players from both teams received medals for their great effort and superb display of sportsmanship. The cup will be placed within the College of Medicine until next year's tournament.
Thanks and appreciation to Dr. Khaled Al-Kattan and Dr. Abdulhamid Al Abduljabbar for supporting this event and to Sheikh Al Amoudi for being a great source of inspiration to these young men who initiated what will become a great sporting tradition for Alfaisal University.