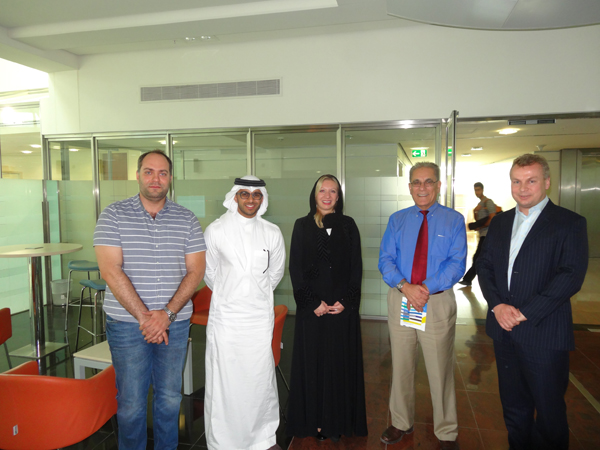 On Sept. 25, 2014, a group from the CFA Institute in London, United Kingdom including Dr. Rainer Pratl (Director Society Relations EMEA), Mrs. Kasia Marianiuk (Manager Society Relations, EMEA) and Mr Bader Alissa (VP, CFA Saudi Arabia) has visited the College of Business at Alfaisal University and met with Dr. Bajis M. Dodin (Dean, Alfaisal College of Business) and Mr. Mohammed Talal (In-charge Executive Programs). The meeting focused on three areas of collaboration between College of Business and CFA Institute:
• University Recognition Program
• Scholarships Program
• University Research Challenge Program
The Recognition program allows academic institutions to demonstrate both internally and among their peers that their programs are aligned with the CBOK. Eligible universities may receive two additional scholarships, for a university maximum of five scholarships. These scholarships can be awarded to undergraduate students in their final year of course work (seniors) or to graduate students.
Scholarships Program: Professor Scholarships are very popular and probably among the easier to get. It is an Awareness scholarship – so it's merit based (not needs based).
Research Challenge Program: The CFA Institute Research Challenge is an annual global competition that provides university students with hands-on mentoring and intensive training in financial analysis. Students work in teams to research and analyze a publicly traded stock — sometimes even meeting face-to-face with company management. Each team produces an initiation-of-coverage report on their assigned stock with a buy, sell, or hold recommendation and may be asked to present and defend their thesis to a panel of industry veterans.
The College of Business leadership will be also working with the CFA Society Saudi Arabia to host Research competition at Alfaisal University.