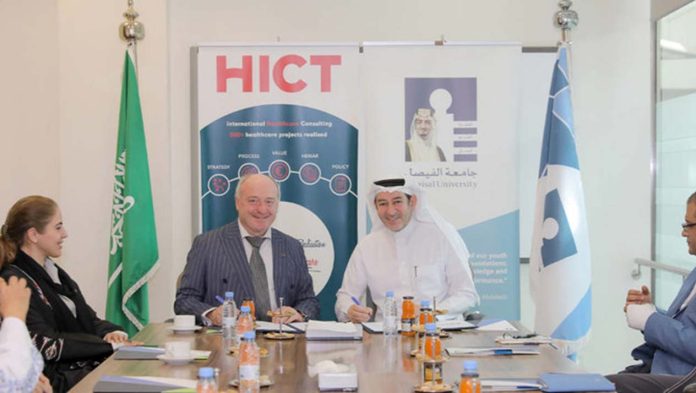 The international boutique consultancy firm from Belgium expands its Middle Eastern activities by collaborating closely with the prestigious AlFaisal University in Riyadh, KSA.
Riyadh: Hict is extremely proud to announce the signing of a new Memorandum of Understanding with the highly regarded Alfaisal University in Riyadh, Saudi Arabia. Jan Demey (Chairman of Hict) and Dr. Mashael Al-Rujaib (Managing Consultant Regional HQ Riyadh) were present to sign the document alongside Dr. Khaled Al-Kattan (Vice President of Alfaisal University and Dean of College of Medicine).
This memorandum aligns both organisations and creates a dynamic agreement of collaboration. Within this collaboration, the expertise of both parties will be leveraged and expanded to provide added value to the Saudi Healthcare market.
Among other aspects, Hict and the University will engage in shared activities on academic trainings, research and consultancy-oriented education. Leveraging Hict's international consultancy expertise with Alfaisal's vast academic experience will be key in combining and achieving both organisation's ambitions.
The signing of this memorandum further emphasises Hict's dedication to the MENA market. Having been active in the Kingdom for over 12 years, Hict was recently chosen as one of the first international companies to open a privately owned Regional Headquarters in Saudi Arabia. Combining Hict's international expertise with the knowhow and experience of Hict's local consultancy team and local partners, will prove insightful and beneficial to support the transition towards the VISION 2030 transformation goals set out by the Saudi Government.
Prof. Alkattan, spoke about the opportunities this partnership will open for graduate & undergraduate students, and its impact on the healthcare field in the Kingdom, stating "Health economics is a major drive in the future of health care in the Kingdom of Saudi Arabia and the world, and Hict is leading institution in this field. Alfaisal University partnership with Hict will provide a valuable learning opportunity for the University's students, and complement its  undergraduates and graduates health economics courses. The partnership will serve a bigger purpose, of supporting the achievement of the Saudi Vision 2030 of having a knowledge based economy, and will add a great value to the national healthcare market.
Both Hict representatives attending the signing of the Memorandum were excited about the new opportunities and challenges this collaboration will provide:
"The Partnership between Alfaisal University and Hict offers a great opportunity to bring our innovative healthcare management concepts and experience to the Kingdom. For Hict this partnership enforces our role as subject matter experts in the Kingdom to support the realisation of the healthcare chapter of the Vision 2030 alongside our customers and partners."
– Jan Demey, Chairman Hict – 
"The partnership between Alfaisal University and Hict offers a great example where academia and consulting in healthcare cross paths. Alfaisal University and Hict will work jointly to share knowledge and expertise through joint conferences and educational activities, as well as developing degree and non-degree educational programs. Through this partnership, Alfaisal University will provide the academic platform, while Hict will become the internship site; opening more opportunities for market and business-oriented training in the kingdom."
– Mashael Alrujaib, Managing Consultant Hict-RHQ-MENA –
About Hict
Hict is a boutique consultancy firm focusing solely on the healthcare market. Since its conception in 2004, Hict has become an international organisation with offices in Switzerland, The Netherlands, Saudi Arabia and the main office in Ghent, Belgium. Our multidisciplinary team of consultants provides high level expertise on subjects such as strategy, processes, value, HEMAR (health economics, market access and reimbursement) and policy. In 2021, Hict was among the first international companies to open a privately owned regional headquarters in Saudi Arabia.