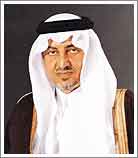 In yet another effort to continually build relationships with business communities, HRH Khaled Alfaisal Chairman of Board of Trustees of Alfaisal University addressed prominent business men and women in Jeddah, Chamber for Commerce and Industry.
Held on Wednesday 19th January the event attracted over 60 prominent and established business men and women who participated in a lively open discussion showing their support and cooperation for "The Campaign for Alfaisal University".
The campaign for Alfaisal University was developed by the endorsement of the Board of Trustees and the active involvement of a select group of business leaders and private individuals. The campaign is part of a major fundraising campaign to strengthen the University's highest priorities, including completing the construction of the world-class campus, academic priorities such as endowed chairs and scholarships, and supporting early operations.
Dr. Maher Alodan, Acting Vice President for Advancement and Vice President for Research and Graduate Studies delivered an informative presentation at the event highlighting the University's objectives, programs and aspirations. The presentation was very well received and elicited lively discussions from attendees who were deeply touched and moved by the university's aspirations which resulted in prominent business men of Jeddah showing their generosity by pledging donations on the spot. Further more the inspirational words of HRH Prince Khalid Alfaisal inspired a particular female academic in business who volunteered her support offering her valuable teaching experience to come and teach at Alfaisal University.
"The cooperation of the private sector is not meant to bring the liquidity only but to give a chance to the private thoughts to contribute in the education," said Prince Khaled.
"Uniqueness is on top of the university's priorities list. The most famous universities in the world are, in fact, private universities, he said, it's a non-profit university emerging from a non profit foundation. We aim to make this university a top institution," he said.
This meeting follows the success of the Riyadh Chamber of Commerce event which was held in December last year with events scheduled in Dammam and Alkhobar later this year.