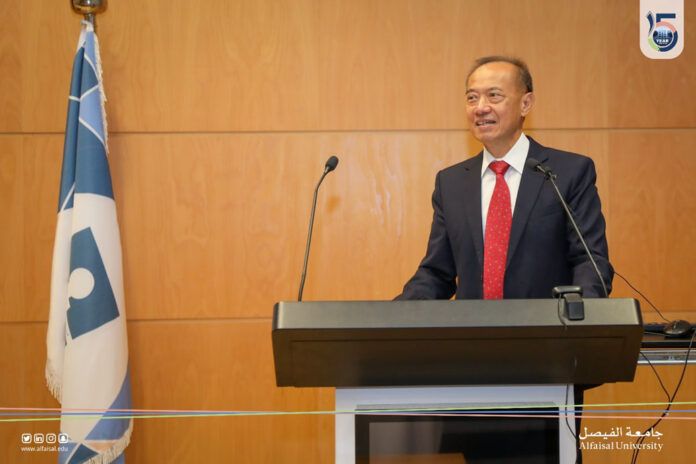 February 2, 2023
The College of Law & International Relations in collaboration with the College of Business welcomed the Former Minister of Foreign Affairs of the Republic of Singapore His Excellency Mr. George Yong-Boon Yeo, to speak in a lecture focusing on Islam in a changing world.  The recent talk emphasized how the future of the globe is expected to be multipolar, with a major rise in the number of Muslims. A big demographic change that will have a large impact on the world is the prediction that nearly one in two infants born in 2050 will be Muslims. Changes in the distribution of power and influence among various nations and civilizations are anticipated to result from the rise of Islam.
His Excellency Mr. Yeo stressed the significance of adjusting to Islam and learning from the past considering these changes to bring about long-lasting change that ensures continuity and encourages the creation of new ideas, languages, and communication methods. This strategy acknowledges the importance of tradition and history while simultaneously recognizing the necessity of growth and innovation. In the linked world of today, these communication techniques are very important. As interactions between individuals of diverse cultures and origins increase, it is more crucial than ever to develop strategies to successfully communicate and create understanding. Together with language proficiency, this calls for cultural sensitivity and empathy.
Biography:
His Excellency Mr. Yeo's role as a Visiting Scholar at the Lee Kuan Yew School of Public Policy of the National University of Singapore and the Founding Patron of its Asia Competitiveness Institute highlights his expertise in the areas of public policy and competitiveness in the Asian context. From 2012 to 2021, His Excellency Mr. George Yeo worked with Kerry Group in Hong Kong, serving as Chairman and Executive Director of Kerry Logistics Network.