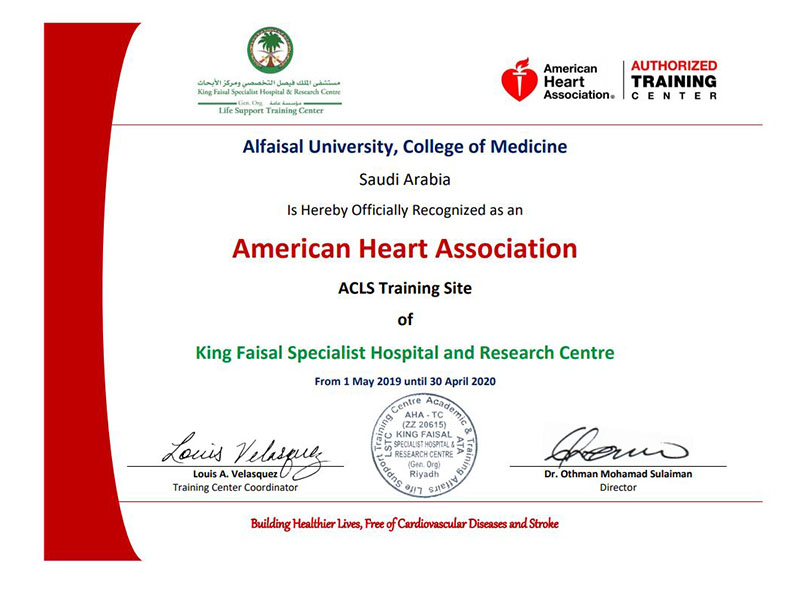 We are delighted to share with you the news of Accreditation of Alfaisal University College of Medicine as an ACLS: Advanced Cardiac Life Support Training Site, which has been internationally accredited by the American Heart Association.
The aim of this project is to allow medical students to have a tangible effect in serving the community by spreading Life Support Skills on a large scale here at Alfaisal University, the local community and beyond, at low cost.
This Achievement came as a result of 2 years of hard work, planning and execution of Dr. Mahmoud Sakkalaik's BLS/ACLS Team, and the generous support from Medicine staff and the Facility staff.
The team would like to acknowledge the tremendous help provided by the several colleagues in helping establish this site, namely Dr.Akef Obeidat for his extraordinary support starting from the smallest detail to the major difficulties, Dr.Mohammed Zafar for his support, the whole members of the BLS /ACLS team for Keeping up an excellent quality of teaching and representing Alfaisal University with an outstanding professionalism,the Facility Team lead by Eng. Malek Al Mobarak who provided an extraordinary support for their mission, and IT department support,
Such a great achievement couldn't have been executed without our Dean's support, Prof. Khaled Alkattan!