Primary Health Care Research on the Road to Vision 2030" Department of Family and Community Medicine
Email: hpp@alfaisal.edu
Website: https://com.alfaisal.edu/en/family-commun-medicine


CONTACT US 
Baraa Alghalyini MD, CCFP, MHSc, FCFPC
Chair, Family & Community Medicine Department, Alfaisal University Vice Dean, College of Medicine, Alfaisal University
Consultant Family Physician, King Faisal Specialist Hospital & Research Center
T:     +966    11    215    7792    |    M:    +966    55    598    4622    |        balghalyini@alfaisal.edu   | baraa.alghalyini@utoronto.ca P.O. Box 50927 | Riyadh 11533 | Kingdom of Saudi Arabia
FULL  10TH HPP REPORT
The full version of the 10th HPP report can be viewed at:
https://com.alfaisal.edu/pdf/The10th-HPP-Annual-Report-2022-2023.pdf

Primary Healthcare Research on the Road to Vision 2030
Overview and Highlights
Starting the Fall semester of 2022, the Family and Community Medicine Department was motivated to return with an upgraded theme for the 10th anniversary of the Health Promotion Project Exhibition (HPP)!
The team consisted of the Vice dean of college of medicine and the chair of the Department of Family and Community Medicine, Dr. Baraa Alghalyini, and department faculty, Dr. Racha Khaled, Dr. Abdul Rehman Zia Zaidi, Dr. Bushra Hafez, and Dr. Fatima Adem.
We started planning for this joyous occasion from day one of the Fall semester of 2022. For the topics, we were inspired by the revolutionary surge of research adoption in health promotion and primary health care like artificial intelligence, sustainability, equity, and many more. In addition to how that highlighted the impact of modern studies' hidden gems, it also emphasized on the importance of research revolving around community health and prevention. For that reason, we settled on the main theme to be "Primary Health Care Research on the Road to Vision 2030".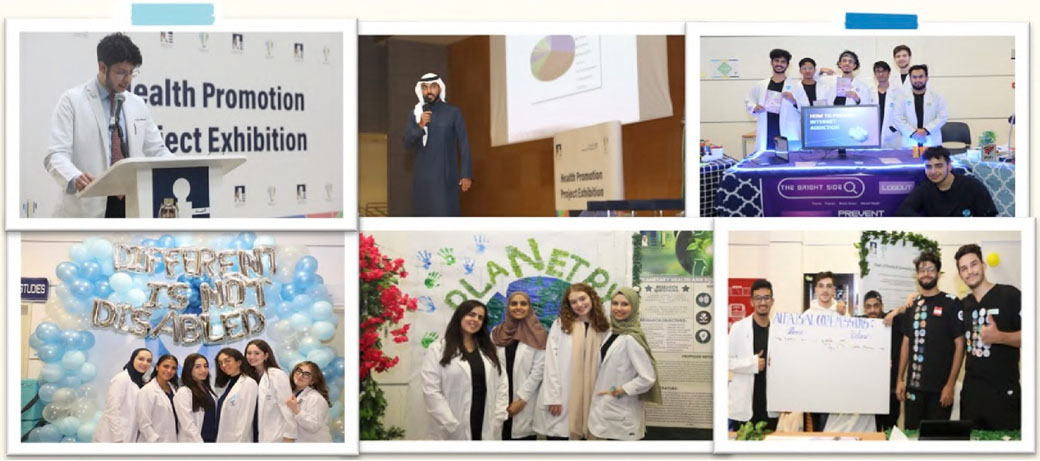 Highlighting the impact of research and primary health care across the life span with topics like sustainability, mental health, climate change, social determinants of health, primary healthcare in Saudi Arabia in the light of Vision 2030, and many more.
More than 420 students were divided into 41 groups, each discussing a certain topic in depth. They would then design a mini research poster based on a comprehensive literature review, identifying a gap in the literature, and finally proposing a research methodology. They also prepared their community-engaging interactive booths on important health promotion and community medicine topics for the exhibition day.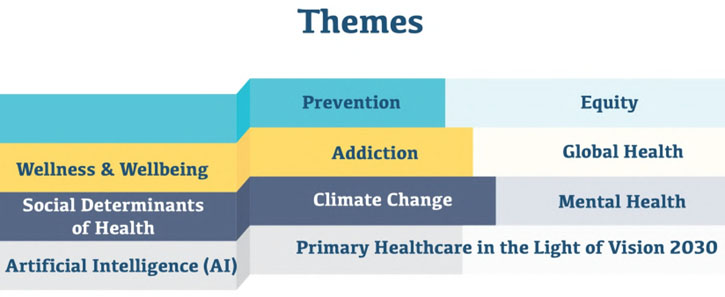 The event was planned to use the entire ground floor of the Alfaisal campus to portray the booths and the exhibitions' other parallel activities. All Alfaisal students and faculty were invited, including the students' friends and family. Healthcare professionals from across Saudi Arabia were invited. High school students from all over Riyadh, and the public were also invited. To enhance the learning experience of our students and for a fair bias- free judging process, experts of various fields of the project's themes with various clinical backgrounds from Alfaisal and other national universities were contacted. Those who showed interest were given a specially developed and compiled judge package containing a scientific rubric to score the groups' booths and research posters and an explanation about the event. The 15 enlisted judges ranged in expertise from clinical medicine to public health to artificial intelligence.
On the day of the event, the doors were open to visitors from 8:30 am all the way until 7 pm. We estimate that more than >1500 guests attended our event during that time. In addition to 41 student booths we included 5 booths run by our supporters WAEY, Saudi Society for Genetic Medicine, Wijha arts and crafts, best seller international author, Dr. Mandeep Rai and Right Bite healthy snacks vendor.
The judges rotated on their assigned booths and the winners will be announced shortly in an awarding ceremony to celebrate all the wonderful effort, not just by the winners, but also by all the students who helped and participated. An appreciation ceremony was conducted during the event where his excellency Prof. Alhayaza, her royal highness Dr. Maha Al Saud and our beloved dear Prof. Khaled Alkattan have honored the participating judges and speakers then lead them to a networking lunch.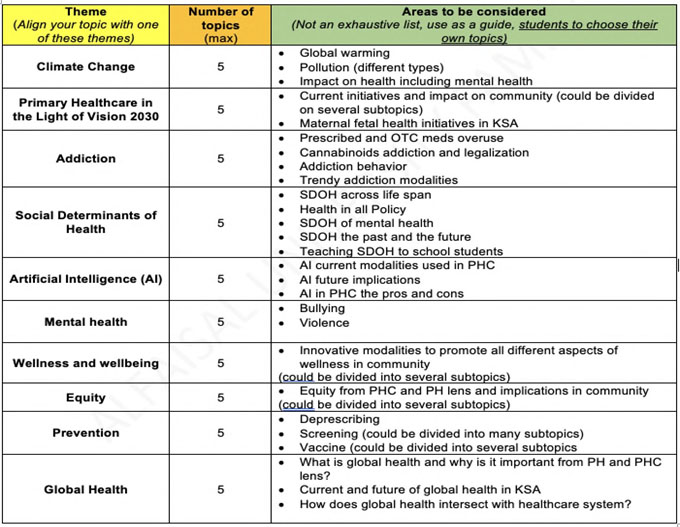 Project structure:
The project constituted 20% of the students' final
41 Students-led interactive booths
41 mini-research posters
Judging panel for 2 Running contests: Top 5 booth and Top 3 research poster
A raffle draw through an online voting survey
Online Research survey to study the impact of HPP Exhibition
6 CME accredited keynote presentations
High school students tour
Appreciation ceremony for judges and speakers
"Ask Your Doctor Diwaniyah -" a live health Q&A session with the audience
"Arts and Crafts" entertainment corners
Opportunity to claim MOH-accredited volunteering points
A 3 km "Run for Fun" around campus in collaboration with Adidas Riyadh Running Group
Awarding ceremony for winners and closing remarks
Research

The importance of research in kingdom of Saudi Arabia "Primary health care research in the road to vision 2030" Why research ?
Saudi universities have:
Contributed 93%of the national output of scientific research
Consolidating the efforts of the Ministry of Education to to support the
research and innovation
Translating its pivotal role in the transformation towards a sustainable
knowledge-based
Meeting the goals of the Kingdom's Vision

Why in Saudi Arabia ?
In line with Vision 2030, the Saudi Crown Prince said to prioritize Research, Development, and Innovation to address global challenges.
Alfaisal University, a leading research-driven university, will come to the calling of the Kingdom's needs by:
Cultivating a finer research
Increasing the research-related modules taught to
Promoting broader scope of research beyond bench
Invitation Flyer and Media Highlight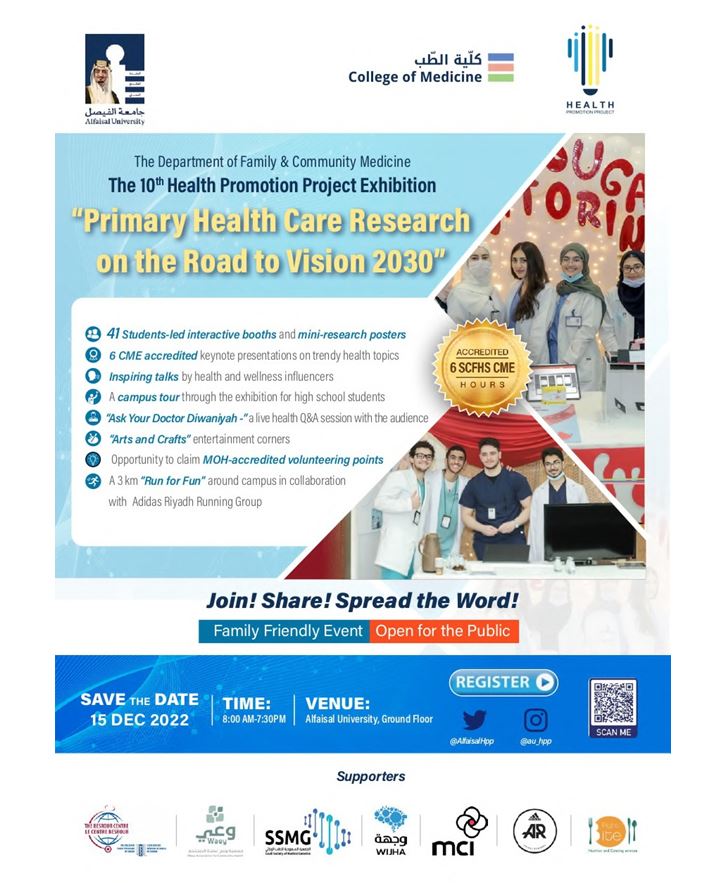 The 10th Health Promotion Highlights
This year's 10th Health promotional Exhibition comes back with a theme inspired by the recent pivotal role of research modalities and its role as a catalyst in the primary health care revolution sweeping community and health systems worldwide. In addition, there will be 41 booths and mini research posters discussing different aspects of research impact on topics including AI, equity and sustainability highlighting the applications, challenges, and the future of these health fields and innovations.
The student will have no more than 10 minutes to present their topic to the judges and answer any questions.

HPP across the life span was the umbrella by which this years HPP has operated and achieved the following:
Continous Professional Development with 6 CME accredited by the SCFHS
Industry free with no bias whatsoever
Family friendly event with an open invitation for the public and Alfaisal students' families
Community Engagement through NCAA accreditation, Faculty and alumni participation
Social advocacy was highlighted by the Themes, topics where it addressed the local societal needs
Charity and volunteering Opportunity to claim MOH-accredited points via WAEY organization
Promoting health habits via A 3 km "Run for Fun" around campus in collaboration with Adidas Riyadh Running Group
Reach out to the younger generation where high schools' tours were offered and "Wijha: Arts and Crafts" entertainment corner for children
National Collaboration with esteemed doctors to participate as speakers and judges from across the kingdom: (PNU, KAU, TU,Aumm-AlQura, NGH,KFMC,PSMC,KFSHRC and MiSK)
Local Partnership with WAEY, SSNG, right bite and wijha
Global engagement and exposure featuring the besrour center of college of family physicians in Canada and an international best seller author Mandeep rai
Highlighted the value of research 41 mini-research posters
Encouraged the students to compete in healthy environment through 2 contests: Top 5 booth and Top 3 research poster
Created an assessment tool as an Online Research survey to study the impact of the annual HPPE on the visitors and the participants
Encouraged the engagement of healthcare providers with the public through "Ask Your Doctor Diwaniyah -" a live health Q&A session with the audience
Enhanced the communication among healthcare providers and participants through a networking lunch
Conducted the awarding ceremony for winners and announced prestigious rewards and certificated to hour their fruitful efforts
Keynote Speakers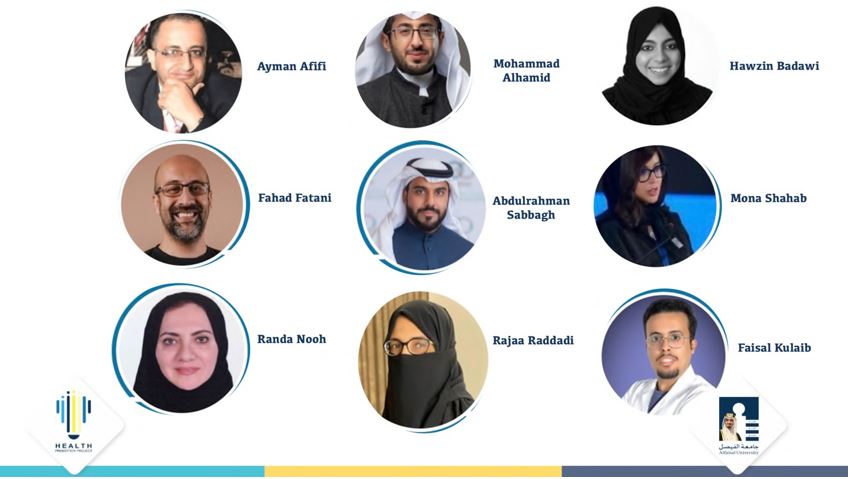 Promo Video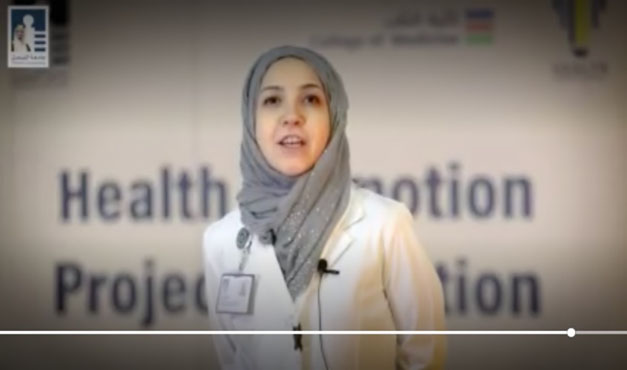 Interview and closing remarks with Dr. Baraa Alghalyini, Vice dean of college of medicine and the Chair of Family & Community Medicine Department at Alfaisal University speaking about the 10th Health Promotion Project.
More than 420 first-year medical students participated in Alfaisal University's Health Exhibition discussing over 42 topics in primary health care and the newly developed research modalities that emerged during the technological revolution of literature and highlighting the inevitable need of using research as a major source for medical approaches and health information credibility.
Partners