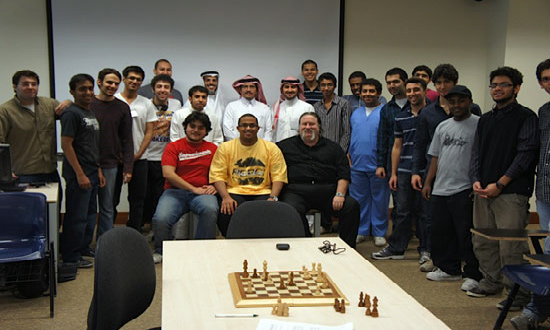 As a change to the demanding and academic atmosphere of the University, the Social and Development Committee (SDC) in collaboration with the Medical Students Association (MSA) organized the First Alfaisal Chess Tournament. Students, staff and faculty from all colleges and UPP were invited to take part in the tournament. The tournament games were played over a period of 10 days, with all matches being knock-out matches.
Students along with faculty and staff showed great enthusiasm for the tournament. A total of 32 participants took the challenge, out of which 20 were students and 12 were faculty and staff members including senior academic leaders; Dr. Mattheus (Theo) F. A. Goosen, Dr. Bernhard Juurlink (COM), Dr. Moni Nader (COM), Dr. Sheikh Yaeesh (COM), Dr. Nasir Afsar (COM), Mr. Ahmed Saeed Khan (COM), Mr. Yogi Errlanga (UPP), Mr. Ric Dawson (UPP), Mr. Gary Norman Fitt (UPP)Mr. Christopher Dundy (UPP), Mr. Jonathan Freeland, and many more. After a series of tough quarter-final matches, the tournament ended with 4 semi-finalists, and surprisingly three out of four of these semi-finalists were students, namely Mohammad Allababidi (2nd year-COM), Ahmed Magdi Abu-Zaid (3rd year-COM) and Abdulhameed Al-Beddawi (2nd year-COM), Dr. Ric Dawson (Faculty-UPP).
The final match which took place on the 6th of April proved to be a nerve wrecking one. The event was attended by many students and senior Alfaisal administration members where they witnessed Ahmed Magdi Abu-Zaid of 3rd Year (COM) beat Abdulhameed Beddawi of 2nd Year (COM) with a difference of only "1" kill-point. The 2nd Runner's-up match was won by Mr. Ric Dawson (UPP faculty) when he beat Mohammed Allababidi of 2nd Year (COM), securing the 3rd place.
The top 3 winners were awarded shields and gift vouchers by Dr. Abdulhameed Abdul Jabbar, Vice President for Student Affairs, Dr. Khaled Kattan, Dean of College of Medicine and Mr. Mohammed Alawoyed, Dean of Admission and Registration Student Affairs.