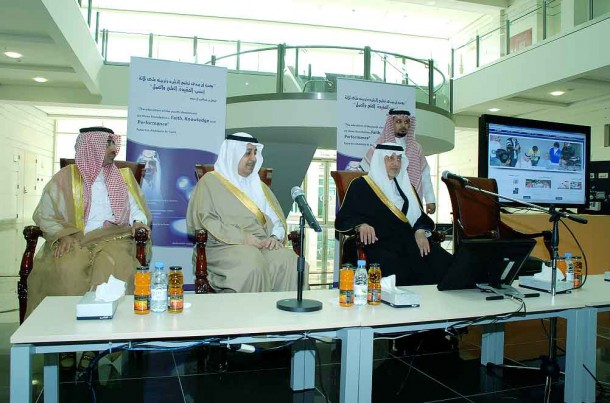 HRH Prince Khaled Alfaisal – Chairman of the Board of Trustees visited the campus to launch the new website for Alfaisal University.  The new website launch was commemorated by touch screen in the presence of students, staff and faculty who were then taken through a short navigation of the site.
Accompanied by HH Prince Bandar Al Saud, Chairman of the Executive Comitteee, HRH Prince Khaled stated:
"Alfaisal new site has been designed to match the current position for Alfaisal University among the academic institutions in Saudi Arabia and worldwide, the new website will fulfill the needs for the different audiences, and it will allow them to reach the different pages in very easy way, also the new website includes a new news sub site which shows Alfaisal news and activities in a very structured way."
Such a visit from HRH Prince Khaled Al Faisal shows how important Alfaisal University is for him and it also inspires Alfaisal community with the future for the University with such sponsorship.  Also present at the event were senior executives, Provost Prof. faisal Al Mubarak, & VP Prof. Ahmad Al Obaid.