On December 29, 2021, Dr. Hind Derar, an adjunct Assistant  Professor of Mechanical Engineering at Alfaisal University presented a talk under the title "Applications of Smart Materials to Orthopaedic: Total Hip Replacement:  Design of Stemless Hip Replacement Prosthesis". The talk was organized in collaboration with the College of Medicine as the topic interests the two colleges.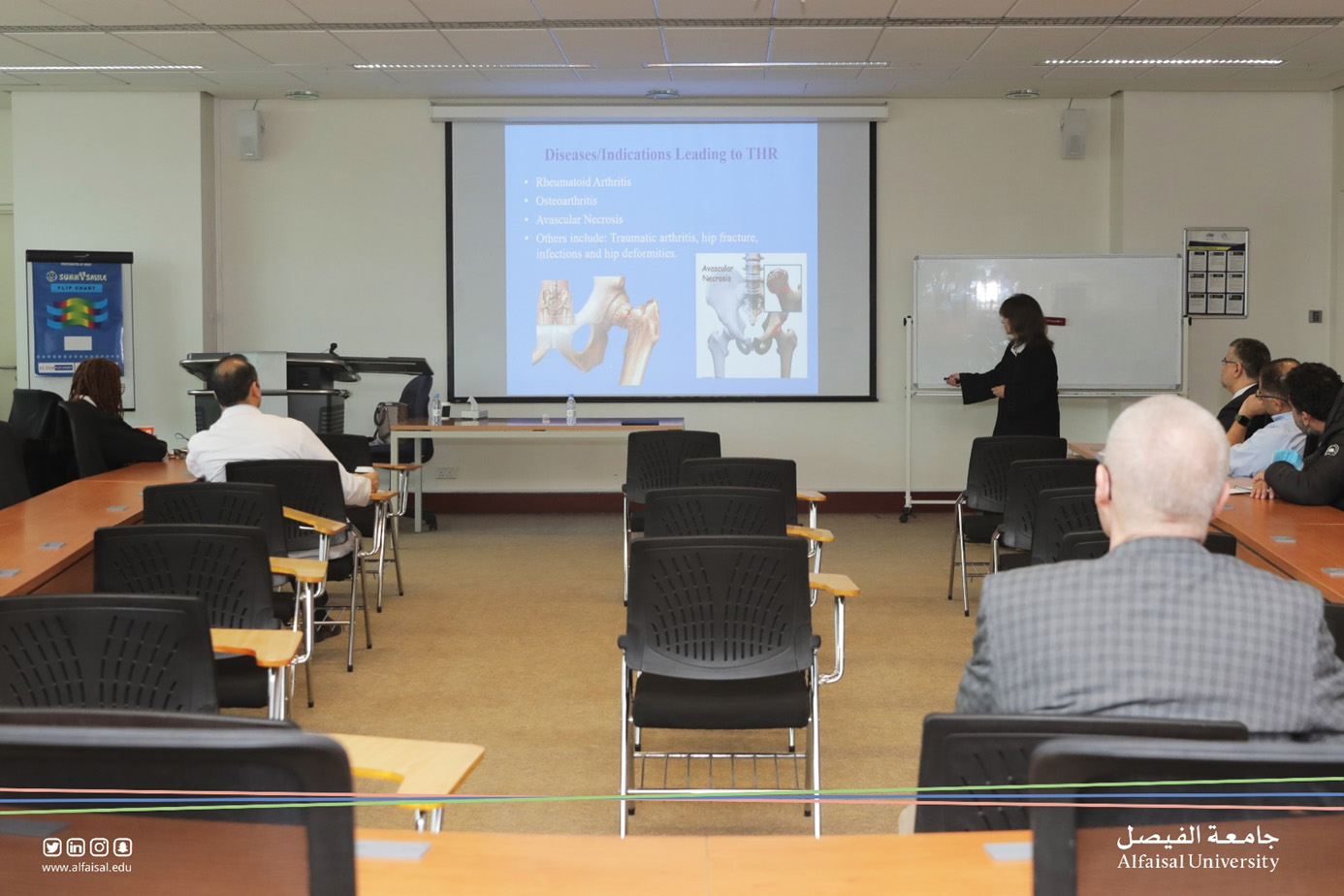 During his talk, Dr. Derar briefed the audience on the national and international market in total hip replacement surgery, the risk entailed after and during the surgery, and the enhancement areas. Dr. Derar talked about her research in the area of using the shape memory alloy/polymer to design and a stemless hip replacement implant with associated modeling and numerical simulation using finite element analysis.
The talk was attended by faculty from the College of Engineering, the College of Medicine, the College of Science, the Office of Research, Innovation and Graduate Studies, and medical doctors from King Faisal Speciled Hospital & Research Center. The audience discussed use cases and application of the design in addition to research collaboration across the colleges at Alfaisal and with King Faisal Speciled Hospital & Research Center.
Dr. Matheus Goosen,  Associate Vice President of Office of Research, Innovation and Graduate Studies & Dean of  CoS and UPP, Dr. Muhammad Anan, College of Engineering Dean, and Dr. Abd-Elhamid Taha, Associate Professor of Electrical Engineering and the Director of Innovation and Research, Office of Research, Innovation and Graduate Studies thanked Dr. Hind for presenting the talk that would bring research collaboration with other colleges and King Faisal Speciled Hospital & Research Center