Global Entrepreneurship Week (GEW) emerged in 2008 to promote entrepreneurship across the world. To celebrate the GEW, Sahel Al Jazeera Media Company, the publisher of Entrepreneurs Magazine, organized a two-day conference event in Riyadh on November 23 – 24, 2021. The purpose of the event was to stimulate a discussion and share knowledge on how to spearhead entrepreneurship education in Saudi Arabia. Speakers included prominent scholars from Mohammed Bin Salman College of Business and Entrepreneurship, King Saud University, Alfaisal University, and other top universities in KSA. Each presenter answered questions from other academics that "intervened" with their comments and suggestions.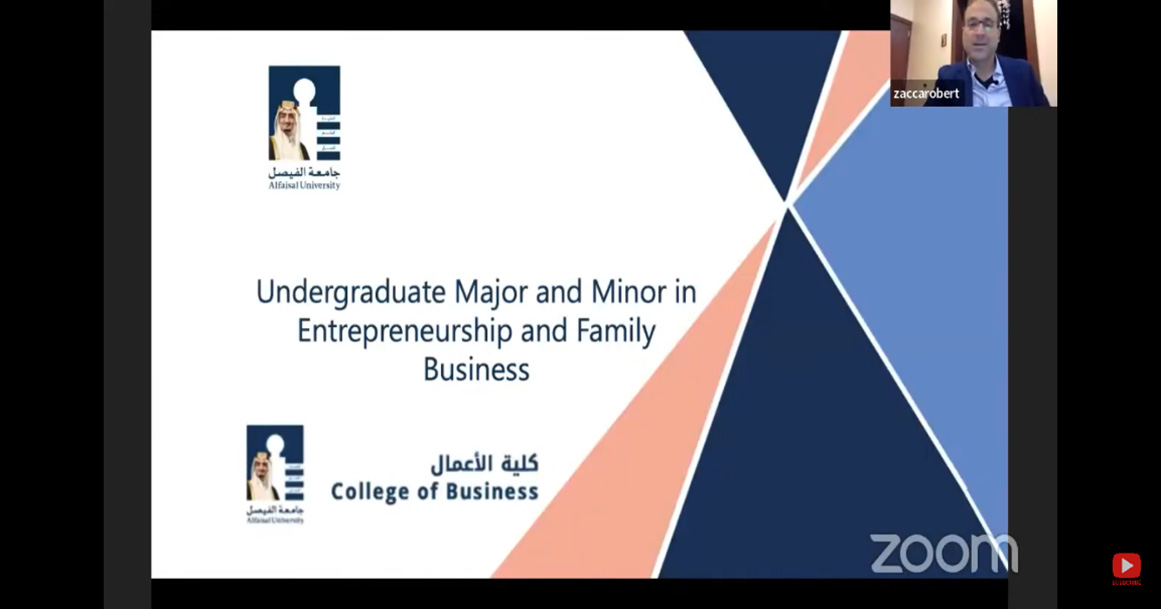 Dr. Dmitry Khanin, an Associate Professor of Entrepreneurship at College of Business in Alfaisal University, gave a talk at the conference titled "Entrepreneurship in Saudi Arabia: The Role of Universities."  In his presentation, Dr. Dmitry has stated that Alfaisal University provides an opportunity for its students to learn entrepreneurship both in the College of Business and College of Engineering. Moreover, Alfaisal University organizes special events applying innovative strategies to develop an entrepreneurial mindset among its faculty and students, such as the Covid 19 3D Printing Hackathon. Dr. Dmitry also pointed out that it is critical to spread entrepreneurship among the family-owned businesses that are prevalent in Saudi Arabia. He suggested that Alfaisal University students taking courses on family business will be able to infuse their family enterprises with the entrepreneurial spirit. On the second day of the Conference held at the Riyadh Marriott Hotel, Dr. Dmitry has stressed the importance of attracting more media attention to entrepreneurship in the Kingdom of Saudi Arabia by creating shows dedicated to entrepreneurship on National TV, both in Arabic and in English.
Dr. Robert Zacca, an Assistant Professor of Entrepreneurship at College of Business in Alfaisal University, introduced the undergraduate major and minor program in Entrepreneurship and Family Business positioning it within the overall ecosystem supporting entrepreneurship in KSA. The ecosystem includes, entrepreneurship development receiving top priority within the Vision 2030 goals for diversifying the economy by:
Promoting the founding of small and medium sized businesses;
The streamlining of government regulations and instituting a favorable tax requiem;
The ease of funding and securing venture capital in KSA;
The proliferation of support organizations such as MISK Foundation, Alfaisal University Dimensions Start-up Accelerator and Monshaat;
The fostering of a positive entrepreneurship culture with increased media exposure projecting Saudi entrepreneurs as heroes of society; and lastly
Showing how entrepreneurship education is trending and how it serves as a key foundation of innovation-led economic growth – presenting the example of Alfaisal University's investment in expanding the College of Business with a new major and minor in Entrepreneurship and Family Business.