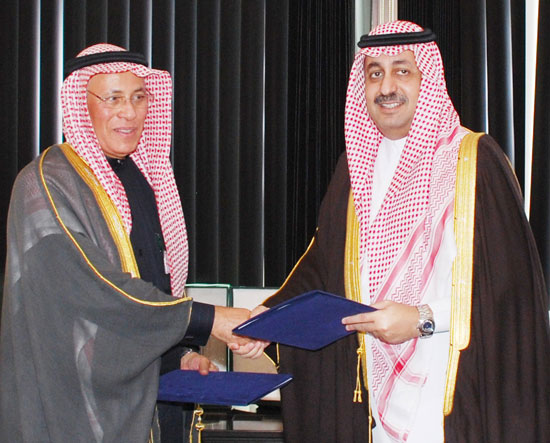 New research opportunities and student training programs in the application of desalination technology are in store for Alfaisal University after it signed a Memorandum of Understanding (MOU) with the Saline Water Conversion Corporation (SWCC).
SWCC Governor Fehied F. Alshareef and a delegation from SWCC visited HH Prince Bandar Bin Saud Bin Khaled's offices at the King Faisal Foundation on Tuesday 30th December 2008 to sign the agreement and explore research collaboration between the two parties. Dr. Alan G. Goodridge, Provost, Vice President for Academic Affairs and Acting President, Dr. Maher Alodan, Vice President of Research and Graduate Studies and Acting Vice President for Advancement were also present during the function.
Facilitated through the Department of Research and Graduate Studies at Alfaisal University, discussions explored cooperative research initiatives between the two parties jointly developing desalination technology to benefit the country. To date, Alfaisal University has signed several MOU's with organizations, institutions and establishments nationally and internationally.
"The agreement is the result of Alfaisal University's commitment to seeking leadership in technical research and scientific development directly related to the needs of development and production centers in the country," Prince Bandar said, "We believe that such developments could be reached through building relationships and cooperation with highly reputable national and international organizations such as the SWCC."
Alfaisal University hopes this link will produce expertise that will contribute in fulfilling technical needs of the country and go onto produce skilled and experienced graduates in water production fields.
The SWCC is internationally recognized as the main producer of desalinated water and trained 5,454 officials in various fields in the year 2006-07. The SWCC has 30 plants, including six located in the east and 24 in the western region of the country.